Dodoma to Garissa: Rashid's untold story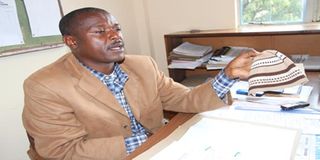 Summary
Little did she know it, but the next time she would see him would be when the 21-year-old was under arrest in Garissa. His crime: Taking part in deadly attacks that left 148 people dead.
Moshi. When Fatma Ali said goodbye to her son in January, she expected to see him again three months later—not as a terror suspect but as a brilliant science student coming home for a break.
Little did she know it, but the next time she would see him would be when the 21-year-old was under arrest in Garissa. His crime: Taking part in deadly attacks that left 148 people dead.
Rashid Charles Mberesero did not see his father for 20 years and had been raised by a single mother from 1994, when his parents separated after endless family squabbles.

But as the Form Five student bid his mother goodbye as he returned to Bihawana High School in Dodoma, he had a big secret in his heart.
Deep inside, he was already a dangerous terrorist, though his mother saw only a good boy who passed his examinations and join Advanced Secondary School to study Physics, Chemistry and Biology.
Four months after the two bid each other goodbye, bad news arrived from Kenya. Rashird had been arrested for allegedly taking part in a terror attack in which 148 people were killed, most of them students at Garissa University.
Rashid's mother was devastated and shocked. She had hoped to have a doctor, an engineer or anything valuable, as her son—and now her hopes were shattered.
She said: "I still do not know the person who enticed my son to join the Al-Shabaab and I have been saddened by the news that he has been arrested in Kenya.''
According to Fatma, the family only realised that Rashid had been arrested through a television broadcast. "I think he met these terrorists at his school,'' she added.
She denies, though, that the-21-year-old was a resident of Usangi village in Mwanga District and clarifies that he was from Gonja and studied at the local secondary school—and passed with flying colours.
"He was selected to join Bihawana high school in Dodoma and came home for his holiday before he said good-bye to me when going back to school,'' she added.
Boy meets dad after 20 years
When Kilimanjaro-based transporter Charles Temba finally met his son last year, it was a happy reunion—and supposedly the beginning of a new chapter in their lives. The two had not seen each other since 1994, when the parents separated. He was pretty young at the time.
Mr Temba admits that Rashird is his biological son, born in 1994, but he had lived with his mother all his life. "I have never stayed with him for all those years," he recalls. "He has lived with his mother since 1994.''
This is why, Mr Temba says, when the two were first introduced, he saw a new life, a happy beginning of another chapter with the son he had not seen for 20 years.
But, unknown to Mr Temba, the new-found reunion would soon be shattered—not by separation this time but by his actions as a father. After the family reunion, the first thing Mr Temba did was to convince his son to convert to Christianity.
But Rashid vehemently rejected the idea on the grounds that he could not suddenly ditch he religion he had followed faithfully for 20 years, ever since he was a child.
Although the 21-year-old Rashid, who was arrested in Kenya last week for allegedly taking part in a brutal terror attack at Garissa University, rejected his father's call, he did attend church three times—but only because his father told him to do so.
The couple separated in 1994, when the boy was a year old. Mr Mberesero claims he lost contact with him until last year, when his former wife introduced the two.
After snubbing efforts to get him to convert to Christianity, Rashid's relationship with his father was strained and he stopped communicating with him.
According to Mr Temba, Fatuma introduced his son to him last year and he advised him to change his religion. "I took him to three consecutive church services and tried to convince him to change his religion but my son snubbed the request," he recalls. The young man then cut off links with him.
To Rashird, who was a form five student at Bihawana High School in Dodoma—studying Physics, Chemistry and Biology—the abrupt end of the reunion with his father was the beginning of a new chapter in his life—joining the Al-Shabaab terrorists.
To his father, who had hoped for a happy life with his son after 20 years years, it was an abrupt end to their relationship. Mr Temba says he was shocked to learn that his son was being accused of taking part in the gruesome attacks masterminded by Al-Shabaab at Garissa University. He used to own Chatco buses before opting for trucks and has not been in touch with his son since last year.
Shock to parents, leaders
The news of Mr Mberesero's arrest came soon after the massacre at Garissa University College on Thursday and his link to Kilimanjaro came as a shock to most residents of the region, including the Mwanga MP and Minister for Water, Prof Jumanne Maghembe.
Asked how she felt when a resident of her constituency was linked with a terror group, Same East MP Anne Kilango Malecela said the news came as a shock. "I am saddened by this information and I think it is high time our security operatives increased their intelligence because there are bad indicators of terrorism,'' said Ms Kilango, who is also the deputy minister for Education and Vocational Training.
Maore ward Councillor Hamad Sempobe described Mr Mberesero as a controversial young man who was suspected of using drugs. But he was quick to point out that he later changed his behaviour and appreared to be a God-fearing man.
Kilimanjaro Regional Commissioner Leonidas Gama said the government would take news of the arrest of a Tanzanian national seriously even if it meant cracking down on the network of people suspected to have links with Al-Shabaab.
"After receiving all this information, we made a follow-up including his communications in order to establish whether he received his training outside the country or was recruited here,'' said the RC.
The-21-year-old student will appear before a Nairobi court today. The other suspects were charged on Tuesday with aiding Al-Shabaab militants in their attack on the institution. According to the prosecution, the accused were in touch with the attackers before the incident and even assisted in delivering weapons.
Prosecutor Daniel Karuri said the Tanzanian national was not in court because he had travelled with detectives to Garissa to help with more investigations. He is said to have confessed to being a member of the terrorist group.
"Investigations so far have established that the suspects had contact with the attackers," Mr Karuri told the court on Tuesday, adding that preliminary investigations on his call data had revealed that Mr Mberesero had been in constant communication with several contacts in Somalia suspected to be Al-Shabaab operatives.
The Tanzanian national is said to have been in his hideout for eight hours before he was arrested. He is said to have played dead, lying among the bodies, but was arrested later as he hid on the roof of one of the buildings—carrying bombs all the while.