Now Gambians to file cases at African Court on rights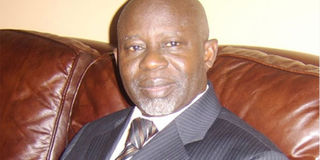 What you need to know:
Gambia becomes the ninth country to sign a declaration that allows individuals and non-government organizations (NGOs) to the African Court on Human and People's Rights (AfCHPR) out of the 30 plus countries which have ratified the protocol esttablishing the Court

Arusha. Gambia has acceded to a declaration allowing its citizens and non-governmental organisations (NGOs) to file cases directly to the African Court on Human and People's Rights (AfCHPR).
The west African nation now joins Tanzania, Benin, Burkina Faso, Cote d'Ivoire, Ghana, Malawi, Mali and Tunisia in signing the declaration.
The announcement was made last week in Banjul, the Gambia capital, during the 63rd session of the African Commission on Human and People's Rights.
"Individuals and NGOs will now have direct access to the Court," the country's vice president, Mr Ousainou Darboe, stated during the meeting last Wednesday.
He added: "These concrete measures all demonstrate the strong commitment of this government to the promotion and protection of human rights."
The VP added that on the home front, Gambia, once derided for its questionable human rights record, had made "steady progress" in the area of good governance and human rights.
The session of the Banjul-based African Commission coincided with the 70th anniversary of the Unilateral Declaration of Human Rights by the United Nations in 1948.
The Gambia VP called on the parties to the African Court to ensure the principles enshrinedin the African Charter on Human and People's Rights were fully realised.
The Court, a judicial organ of the AU, was established in 1998 and operationalised in 2006 to determine cases on violation of human and people's rights in Africa.
According to Dr Robert Eno, its Registrar, about 70 per cent of the pending cases at the Court had been filed by Tanzanian nationals.
Thirty two of the applications received have been disposed of, 32 others finalized and few others pending or transferred to the Banjul-based African Commission.
Establishment of the Court dated back to 1998 when nearly all of the AU (then known as the Organization of African Unity- OAU) appended their signatures for its creation.
However, todate only 30 countries have ratified the protocol to set up the institution out of the 54 AU member states with only eight having signed a Declaration that allowed individuals and NGOs to access the Court directly.
The protocol for establishment of AfCHPR came into force in January 2004 and the first judges were elected in 2006.
The Court relocated to Arusha in 2007 from Bajul, Gambia, its temporary headquarters for some time.