What new regulations mean to social media users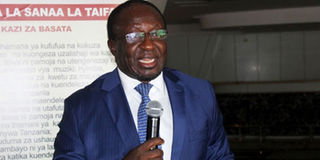 Summary
The Electronic and Postal Communications (Online Content) Regulations 2018 came into force in March 13, after the minister for Information, Culture, Arts and Sports, Dr Harrison Mwakyembe signed them
Dar es Salaam. Be warned that failure to have a password for your mobile phone is now a crime which might earn you a fine of more than Sh5 million or imprisonment for 12 months or both.
This is in accordance to the newly introduced Electronic and Postal Communications (Online Content) Regulations 2018, which was signed by minister for Information, Culture, Arts and Sports, Dr Harrison Mwakyembe last month.
The discussion was organized by Internews Tanzania office under its Boresha Habari programme which seeks to improve media operauons in the country and expand rights to information to as many Tanzanians as possible without gender bias.
Besides, if you are a blogger, the new regulations require that you apply for a license from the Tanzania Communication regulatory Authority (TCRA) at a certain fee and upon registration, you also pay annual fees.
Speaking in Dare s Salaam on April 6 during a roundtable discussion on the impacts of the regulations, the Tanzania Bloggers Network Secretary General, Mr Krants Mwantepele, noted that there were dangers that many bloggers might close their activities because "they can hardly meet conditions stipulated in the regulations."
"First, the fees which we are supposed to pay for license applications and annual subscriptions are way beyond earnings of many bloggers… I am sure many will not afford such fees," he said.
According to the second schedule of the regulations, a person who provides online content services, is supposed to apply for a license at Sh100,000 fee, pay initial license fee amounting to Sh1,000,000 and annual license fee of Sh1,000,000. Upon expiry of a, license after three years, he will be supposed to pay Sh1,000,000 to renew it.
Mr Raphael Ngonde from Legal and Human Rights Centre (LHRC) said when presenting an analysis of the regulations that most sections in the regulations were against basic rights provided through the Constitution.
"Another thing which we must ask ourselves regarding these regulations is to what extent the stakeholders, and the public was engaged and involved during the drafting of the regulations," he said.
Mr Mike Mushi from Jamii Media, wondered what was the criteria for the government to charge people who operate online televisions or radios.
"For the mainstream radio or television we know that the government own frequency which is used to broadcast. But does the government own the internet, a medium through which online TVs and radios broadcast?" he asked.
But Mr Mwantepele noted that social media users were somehow to blame for the introduction of the regulations because most of them did not pay attention to ethical requirements for publishing through social media.