Furnish police with evidence of people abducted by security organs, minister tells public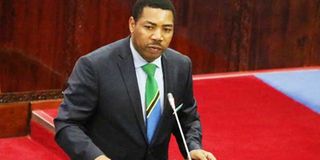 What you need to know:
Dr Nchemba said if they had no evidence, they should stop talking about such sensitive matters.
Dodoma. Home Affairs minister Mwigulu Nchemba has requested the public to furnish the government with evidence of people who are alleged to have been missing or killed by members of security organs for investigations to be carried out.
Dr Nchemba said if they had no evidence, they should stop talking about such sensitive matters.
He was speaking on Friday in Parliament when winding up his Sh945.5 billion budget for 2018/19.
He was responding to MPs' concerns that people were being kidnapped, tortured or killed and their bodies had been found in various parts of the country.
The MPs mentioned Chadema cadre Ben Saanane, Mwananchi Communications Limited journalist Azory Gwanda and Kibondo District Council chairman Simon Kanguye, who have gone missing.
The shooting of Singida East MP Tundu Lissu was also mentioned.
But Dr Nchemba maintained that the government was concerned about the incidents and was working hard to arrest suspects.
He called on members of the public to cooperate so that suspects can be apprehended.
"It is totally wrong to generalise that those who went missing are in police hands. We have a well-trained force, and legal and disciplinary measures have been taken to officers who breach the code of conduct.
"Let's be very careful when talking about sensitive issues related to security. Anyone with evidence should submit it to the police force for investigations to be undertaken, otherwise you better shut up."
He some a few suspects had crossed the border to avoid arrests.
"They include drug kingpins, bandits and other criminals. So it's not true that those who are missing are in the hands of security forces, some of them are simply at large," he said.
According to him, the dead were illegal migrants.
"They are always being transported illegally, so their agents find easy to dump bodies. The government doesn't kill them. Some of them were found unconscious. Police and prisons forces had to give them first aid."