Small scale miners call upon govt to distribute idle blocks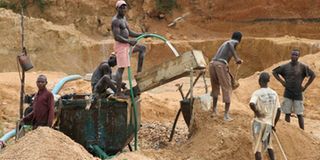 What you need to know:
Small-scale miners in Tanga have expressed concern over the existence of big chunks of mining blocks, largely belonging to big investors that have been left idle in the region for years.
Tanga. Small-scale miners in Tanga have expressed concern over the existence of idle mining blocks, which largely belong to big investors in Tanga Region.
New leaders of the Tanga Regional Miners Association (Tarema) are now asking the government to revoke mining licenses held by the investors and distribute the blocks to registered small-scale miners who would exploit minerals and pay taxes to the government.
The secretary general of the Association, Mr Nassoro Mwaupea told The Citizen that leaving those mining blocks idle would encourages invasion by artisanal miners who always sell their products to middlemen who sometimes smuggle the precious minerals to neighbouring countries.
"It is a pity that these blocks are lying idle for a long time. If mining activities are vibrant, the artisanal miners will improve their earnings and the government will collect lots of revenues," Mwaupea said.
The representative of licenced miners in the association, Mr Hassan Ali Abdallah, said it was high time the blocks were distributed to small-scale miners because some of them have been lying idle for more than a decade.
The association urged the government to prepare and make the mineral map available to avoid environmentally unfriendly mining.
Mr Abdallah cited a survey conducted on limestone deposits in Tanga that shows the surveyed area of some 8,268 square kilometres, has deposits worth Sh2.24 billion and that can be mined for 31 years.
"Such surveys are very important because they help in controlling unfriendly digging of the minerals," he said.
Tarema argued that it would also be easy for banks to extend loans to licenced miners after learning the value of mineral deposits.
The Tarema leaders further called on the government to establish a mineral centre in Tanga Region, which will be controlling the minerals and gemstone trade.
"Lack of such facilities encourages tax evasion and smuggling," Mr Abdallah said.