Acquitted Nondo now seeks to rebuild his life as a student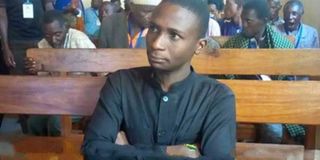 Summary
After being cleared of the charges he faced, the chairman of the Tanzania Students networking program (TSNP), Abdul Nondo, said he has no plans to claim any compensations.

Dar es Salaam.  After being acquitted of all charges by the Iringa resident magistrate court, the chairman of Tanzania Students Networking Program (TSNP), Abdul Nondo says he has no intention of claiming compensation.
Mr Nondo, who was suspended from the University of Dar es Salaam (UDSM) due to the court case he was facing, has told The Citizen that his focus now is on the future as a student.
"My focus now is to finish my studies at the University of Dar es Salaam,  " said Nondo who was a third year student at UDSM.
Mr Nondo was suspended from the university pending a court case in Iringa, where he was charged with publishing false information on social media that he was in danger.
On Monday November 5, Iringa's Senior Resident magistrate Liad Chamshama, acquitted Nondo by saying the prosecution failed to prove the accusations leveled against the accused (Nondo).
According to Nondo, he is now preparing himself psychologically to start where he left in his studies.
"I had already finished my first semester of third year, so now I'll be finishing up the last one," said a happy-looking Nondo.
Nondo further revealed that he had no plans of transferring to another varsity; considering the challenges he went through while at UDSM.
Further, he called upon the lawmakers to review students' by-laws at universities which require that a student be stopped from his/ her studies when facing a court case.