Adolescence education 'is crucial'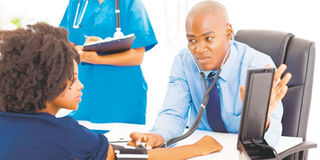 Summary
Mary Stanislaus, 17, (not her real name) had little knowledge of changes associated with puberty when she was a 14-year-old Standard Seven pupil.

Dar es Salaam. Girls' education on puberty is highly recommended, for it would help reduce the rate at which they drop out of school.
Mary Stanislaus, 17, (not her real name) had little knowledge of changes associated with puberty when she was a 14-year-old Standard Seven pupil.
Sexual urge got the better of her. Mary did not know how best to deal with it and when she the turned 15, the damage was already done. She became a mother.
"When I was 13, our parents divorced, so a stepfather had to take the burden of caring for us. It was the time I started noticing changes in my body. I also becane very rebellious," she said.
Mary says after their parents' divorce they moved to her stepfather's house, which had one bedroom for her parents and a sitting room that she shared with her other five siblings.
"During that period, two of my brothers had to move out and become bodaboda riders while one of my sisters got a job as a house help. She was staying at her boss' house," he narrates.
Mary says she went through a rough time psychologically, which prompted her to start a sexual relationship with a petty chips trader near her school.
According to her, she would sneak out at night while her parents were asleep, leaving her remaining sister in the sitting room.
She says this went on until a day when her parents discovered her actions, but it was too late for she was already pregnant and her boyfriend had run away after learning of the pregnancy.
"It was a difficult time for me, I had a difficult pregnancy and my parents were always shouting and blaming each other about my pregnancy," Mary says.
"After nine months, I was supposed to go to labour for delivery. That's where I almost lost my life because of complications and nurses told me that was because my body wasn't yet ready for reproduction."
Two years later, she has a baby girl, but she is still not aware that she can access friendly adolescent services to avoid conceiving again besides contracting sexually transmitted diseases (STDs).
Mary says she could not continue with her studies because her poor parents could not afford to get her back to school.
Her dream of getting education seems to be over after President John Magufuli declared that no teen mothers would be allowed back to a public school.
Policy on reproductive health
According to statistics availed by HakiElimu, in 2015, at least 69,067 secondary and primary school girls dropped out of school due to various reasons including early pregnancy, absenteeism and death.
The country's 1994 policy and national guidelines for the Ministry of Health, highlight the importance of information and reproductive health services.
The policy explains that male and female of reproductive age shall have the right to access family planning information, education, counselling and services regardless of their parity or marital status.
Furthermore, the policy explains that all male and female of reproductive age shall have the right to access family planning information, education and counselling without consent of spouse, parent or guardian.
It also reads that adolescents who admit they are sexually active and have started engaging in sexual activities shall have the right to family planning services of their choice after advice and counselling from a technical person.
Tanzania Family Planning Association (Umati) reproductive youth health coordinator Jacinta Mutakyawa says the national policy recognises the need for the youth to access reproductive health services and information so long as they are at the required age.
She observes that Umati provides the service in different regions of the country including Mwanza, Dar es Salaam, Pemba, Morogoro, Iringa, Mbeya, Moshi, Tanga and Mbinga.
"We categorise the youth from 10 to 24 years because it's the time when males and females are more active reproductively, so they need information and education on how to deal with their body changes," she says.
She adds that the decision to include 10-year-old children stems from the fact that in the recent past a girl of nine years became pregnant, which shows that they too are at risk of pregnancies, sexually transmitted diseases, abortion and even drug abuse.
Jacinta explains that the youth are put into age groups of 10 to 14, 14 to 16 and above because the information that they need differs with age.
However, she notes that while the policy supports the service, there are a number of challenges hindering it including culture and customs of some tribes where young people are not supposed to know about sexual matters.
"A majority of parents are rigid and don't want to allow their children access reproductive health information and services," she says.
She further notes that most health services are not youth friendly and infrastructure was also limited where both men and women access service at one point, which make it difficult for the youth to mix with them.
Jacinta also observes that there was a shortage of health providers and most of those available are not skilled enough to serve the young people. They always have negative attitude towards the youth.
She explains that the time was also not friendly as the clinics close at 3pm while students are still at schools.
"Making them aware makes them responsible and enables them to grab opportunities that could shape their future goals," she says.
In another development, Ministry of Health's adolescent sexual health reproductive coordinator, Jesca Masanja said the government will train health providers with the needed skills to enable them provide friendly youth services.