Ban on 19 universities to remain in force, says TCU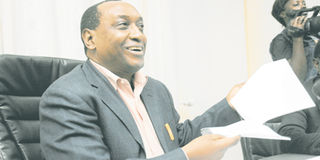 What you need to know:
According to TCU, the decision stays in force following failure by the universities to address the address shortcomings that were pointed out earlier.

Dar es Salaam. The 19 institutions of higher learning that were banned by the Tanzania Commission for Universities (TCU) from admitting students in the academic year 2017/18 will have to wait until next admission date to take in new students.
According to TCU, the decision stays in force following failure by the universities to address the address shortcomings that were pointed out earlier.
The decision was revealed by the acting executive secretary of TCU, Prof Eleuther Mwangeni, during an exclusive interview with The Citizen.
Prof Mwangeni said as most higher learning institutions start their new academic year today, those, which were banned from admitting new students will have to wait until the next academic year, and meantime, they are required to address the shortcomings.
He further said that TCU will continue with its work of auditing the institutions of higher learning.
"None of the banned institutions has been allowed to take in new students in this academic year. They failed to comply with regulations and will therefore not admit new students in this year," said Prof Mwangeni.
He added, "The affected universities will be allowed to receive new students from next year but upon satisfaction that they have adhered to the requirements."
The TCU boss warned the affected higher learning institutions against enrolling new students. According to him those, who will defer will face legal consequences.
He also warned some of the higher learning institutions, which have enrolled more students than the number allocated to them based on their capacities.
"No institution is allowed admit more students than the number allowed them by TCU," he said.
Confusion and anxiety gripped the academia in July after TCU blacklisted 19 institutions of higher learning from enlisting students for the 2017/18 academic year.
Several universities and constituent colleges were thrown into state of panic as others rushed to seek clarification following TCU's order that also delisted 75 courses from some 22 universities.
Some affected universities were up in arms then, fearing the impact of the TCU move on their respective reputation and plans for the new academic calendar. The order, however, was not meant to affect continuing students.
Officials of the universities who spoke to The Citizen protested that TCU had ambushed them and that the agency tasked with overseeing quality of education in the higher learning echelons may have used outdated information against them. Prospective students were caught unawares by the order which came just four days into the college enrolment window. Universities across the country start the new academic year today.
Nearly 33,000 candidates who sat their Form Six national examinations in 2017 scored first and second divisions to qualify for direct entry into university. Over 20,000 others with division three and below were also expected to seek enrolment in colleges for training that correspond with their scores.
Prof Mwangeni, said feedback was circulated to all colleges by July 1, this year. He added that all institutions with flaws were given 14 days to correct and submit their reports to the Commission for further review.
Speaking during a ceremony to launch 12th exhibition on higher education science and technology, Prime Minister Kassim Majaliwa in July asked 19 universities barred to admit students over irregularities to stop wasting time in unnecessary media debate and workshops and focus on addressing the outlined problems in their institutions.
"The government wants universities to produce well trained professionals who would be an asset towards the realisation of the country's dream of industrialising its economy and thus thrusting it into the middle-income status," the Premier was quoted as saying.
Apart from imposing a ban on 19 institutions of higher learning from admitting new students, TCU also imposed a ban 22 higher learning institutions from admitting new students in 75 courses.