Birds strike Precision Air plane before landing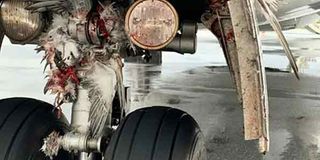 What you need to know:
On Sunday, December 9, a flock of birds hit Precision Air's flight PW 722 which was flying from Nairobi via Kilimanjaro to Mwanza and damaged some parts of the aircraft. No casualties were reported but the aircraft has now been grounded.

Dar es Salaam. Precision Air has grounded one of its ATR- 72 aircraft after being hit by a flock of birds before landing at the Mwanza Airport on Sunday.
Lake areas such as Mwanza and plain game areas in other parts of the country are considered hazard zones for air safety due to birds that often fly at high altitude.
On Sunday December 9, the birds hit Precision Air's flight PW 722, which was flying from Nairobi via Kilimanjaro to Mwanza and caused some damages.
Nonetheless, the plane managed to land safely without any casualties. It hadfour crew members and 68 passengers on board, Precision Air has confirmed to The Citizen.
Bird strikes are a significant threat to flight safety, and have caused a number of accidents with human casualties. Majority of bird strikes are known to cause little damage to the aircraft, however the collision is usually fatal to the bird(s) involved.
Eliminate birds at landing sites
Precision Air's Chief Executive Officer Ms Sauda Rajab told The Citizen during an interview that the birds are posing a great risk to air safety at airports where cases of bird strike are notorious.
"The birds not only pose a risk to passengers and the crew but also they cause a great loss. They can damage the engines. It means now that our engineers have to work on this aircraft before it could start flying again,'' said Ms Rajab. "Imagine when the engine is damaged and we have to pay up to two million dollars to replace it,'' she explained further.
She suggested that strong mechanisms should be put in place to deal with the birds. "Our pilots are well-trained to deal with such situations but I think long-term solutions have to be found at Mwanza Airport. Such cases have also been reported with other airlines,'' she said.
"I know that at Kilimanjaro International Airport, research has been done and this led to some interventions. I do believe the same can be done for Mwanza Airport where cases of bird strike have also been reported quite often,'' he noted.
Later on Monday December 10, a statement from Precision Air said, "…a team of engineers [is assessing] the extent of damage [to the aircraft] and to determine the necessary course of action."
"Being short of one aircraft for our commitment, adjustments had to be made to our flights from which some passengers may be inconvenienced in the short term,'' the statement added.
Airports authority speaks out
The Tanzania Airports Authority (TAA) Director General Richard Mayongela said he had assigned a team to look into the matter and find ways of addressing the cases of bird strike at Mwanza Airport.
"There are committees involving youth, whohave always been controlling the birds…in this latest case, I think they were not ready on the ground to intervene,'' said Mr Mayongela when The Citizen sough to know what measures have been taken so far.
"As we are speaking now, I have assigned a team of people to intervene but [as the government], we will go further to find long-term measures, including learning from countries facing a similar problem…we also want to start employing technology,'' he said.
Known concentration areas for the birds has also been noted in West Kilimanjaro, Dodoma and Singida. Experts say the birds could constitute a great hazard after good rains when breeding takes place.
The International Civil Aviation Organization (ICAO) reported 65,139 bird strikes for 2011–14, and the Federal Aviation Authority counted 177,269 wildlife strike reports on civil aircraft between 1990 and 2015, growing 38 percent in 7 years from 2009 to 2015. Birds accounted for 97 percent.