Children living with albinism start reuniting with families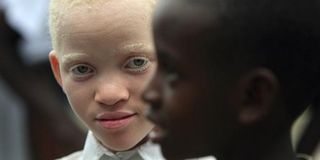 Mwanza. The Karagwe Community Based Rehabilitation Programme (KCBRP), which is a non-government-run programme, has started working on a strategy of removing children living with albinism from centres, where they have been taken care of, to their families so they could be imparted with the good foundations of being brought up.
The children had been taken to the centres after the emergence of acts of killing people living with albinism. From 2007 until now at least 76 albinos have been killed, 69 injured and 22 graves dug out due to misleading superstitious beliefs.
The comment was made by KCBRP's Project Officer Vivian Kori during a training seminar organised for development officers, local chairpersons, police gender desk, religious leaders, motor cycle taxi operators at Magu District in Mwanza Region.
Kori explained the strategy had started with the provision of education to leaders engaged in social issues so that in return they could provide education on how to live with the people living with albinism just like any people without any harm.
"The care they receive in their homes is quite different from that of the centres as there are a lot of things that they miss while they feel that they are different from other normal people. This is why we are deeply committed to providing this education so that it can be spread to society to love this group," said Kori.
For her part, KCBRP facilitator Grace Lubugula clarified that the project was being implemented in all the six regions of the Lake Zone that led in the killings of albinos.
The Secretary of the Tanzania Albinism Society (Tas) in Magu District, Pendo Mahenya, said the existence of the organisation in the district would reduce stigmatisation.