Details of Kennedy assassination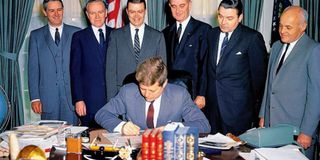 What you need to know:
Most of the documents that were released are documents that have been seen before, according to the author of the book on Kennedy
Washington. Cuban and Russian spies, false leads, strippers, bizarre CIA murder plots and a furious FBI director.
Newly released secret records are full of intriguing details surrounding the assassination of President John Kennedy.
But Kennedy scholars say the thousands of documents do not appear to contain any bombshell revelations about the November 22, 1963 murder that shocked the world.
President Donald Trump ordered the release on Thursday of 2,800 classified Kennedy assassination records, but held back other "sensitive" documents under pressure from the CIA and FBI.
That last-minute decision left many Kennedy historians frustrated - and provided more fuel for the thriving conspiracy industry around the shooting of the charismatic 46-year-old president in Dallas, Texas.
"I was very disappointed," said Philip Shenon, author of "A Cruel and Shocking Act: the Secret History of the Kennedy Assassination." "Most of the documents that were released last night are documents we'd already seen before," Shenon told AFP. "We just saw them in redacted form previously."
"The really important documents, sort of the super secret documents, most of them are not part of the release," he said.
The Warren Commission, which investigated Kennedy's murder, determined that Lee Harvey Oswald - a former Marine Corps sharpshooter - acted alone but that conclusion has failed to quell years of speculation that others were involved.
Hundreds of books and movies such as the 1991 Oliver Stone film "JFK" have examined scores of conspiracy theories, pointing the finger at Cold War rivals the Soviet Union or Cuba, the Mafia and even Kennedy's own vice president, Lyndon Johnson.
While the records released on Thursday by the National Archives contain reams of new information it will be months before the rest of the files are seen - if ever.
Trump gave the CIA, FBI and other agencies six months - until April 26, 2018 - to make their case for why the remaining documents should not be made public.
In a tweet on Friday, the president said the JFK files were being "carefully released."
"In the end there will be great transparency," he said. "It is my hope to get just about everything to public!" Later, Trump clarified in a tweeted statement that he would "be releasing ALL JFK files other than the names and addresses of any mentioned person who is still living."
"I am doing this for reasons of full disclosure, transparency and in order to put any and all conspiracy theories to rest."
Gerald Posner, author of "Case Closed," which determined that Oswald did indeed act alone, said the release was "frustrating" and that much of what is in the files has been known previously.
Shenon said that while there were no new revelations in the documents there were nevertheless some "interesting tidbits."
He pointed to one record in which then-FBI director J. Edgar Hoover expressed his anger with the "inexcusable" failure of Dallas police to protect Oswald despite repeated FBI warnings that his life was at risk.
Oswald was shot by a striptease club owner, Jack Ruby, on November 24, 1963 -- two days after the Kennedy assassination -- while being moved to a county jail.
Hoover goes on to add that the FBI had hoped to obtain a confession to "convince the public that Oswald is the real assassin."
Many of the records are raw intelligence including scores of reports from FBI agents following up leads that led nowhere.
Much of what they contain is previously known, such as that the communist-obsessed CIA cooked up several outlandish plots to murder Cuba's Fidel Castro. One document detailed how in the early days of Kennedy's presidency the CIA offered $150,000 to Italian-American mob boss Sam Giancana to organize the killing of Castro.
Giancana in return sought the CIA's help to place a listening device in the room of his mistress - a Las Vegas entertainer - whom he thought was having an affair.
Other possible ideas to kill the Communist leader - said to be a keen diver - included contaminating his diving suit with disease-causing bacteria, or booby-trapping a seashell with a bomb.
The plan was scrapped when it was determined "there was no shell in the Caribbean area large enough to hold a sufficient amount of explosive."
The files also contain new - if inconclusive - details about an intriguing chapter in Oswald's life: a trip he took to Mexico City seven weeks before he killed Kennedy and his meetings there with Cuban and Russian spies.
In his memo, Hoover referred to some of Oswald's contacts with Cubans and Russians but dismissed them as being only about visas for him and his Russian-born wife.
While many theories over the years are linked to Oswald's ties to Cuban or Soviet operatives, an FBI memo in 1963 indicated Kennedy's death was source of deep mourning in the Soviet Union.
According to a source, "officials at the Communist Party of the Soviet Union believed there was some well-organized conspiracy on the part of the 'ultraright' in the United States to effect a 'coup.'"
The Soviets feared the killing would be used as a pretext to "stop negotiations with the Soviet Union, attack Cuba, and thereafter spread the war."
The Soviets also insisted that they had "no connection whatsoever" with Oswald, who defected to the Soviet Union in 1959 but returned to the United States in 1962.
Oswald, according to the Soviets, was "a neurotic maniac who was disloyal to his country and everything else." (AFP)