Fear as Magufuli threatens media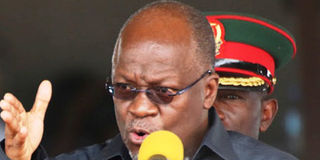 What you need to know:
The Head of State yesterday accused two unnamed newspapers of publishing seditious stories and therefore endangering peace. Without elaborating, he declared their days are numbered
Dar/Shinyanga. President John Magufuli yesterday warned two newspapers, saying their days were numbered.
Dr Magufuli accused the two unnamed newspapers of publishing seditious stories and therefore endangering peace.
He warned that he would ban them.
The President was speaking during the inauguration of  Jambo Food Production Company — a soft drinks factory — in Shinyanga.
Dr Magufuli warned the media against writing or airing inflammatory  stories that may endanger peace as it happened in Rwanda where radio and other reports instigated the 1994 genocide.
"The government, which specialises in 'lancing boils', cannot let such newspapers to continue operating. It cannot leave Tanzania to be a dumpsite of seditious news. This will not be allowed under my rule, never," said Dr Magufuli. "And it is only two newspapers. Whenever you read them they always incite the people… when you say this they turn it into something else. I want them to hear me. Their days are numbers.
He said other media outlets had been fair in their reportage about the government or him. "They will be open; they don't incite people."
However, media practitioners told The Citizen that it was unfair for the Head of the State to ban the newspapers without disclosing their actual misdeeds.
Last November, Tanzania passed theMedia Services Act, which has been widely criticised by media stakeholders for trampling upon press freedom.
The Tanzania Editors Forum (TEF) and the Union of Tanzania Press Club (UTPC) have said President Magufuli's warning  will affect press freedom and tarnish the government's image.
TEF secretary general Neville Meena said President Magufuli should respect the country's laws and regulations and should not use his powers arbitrarily.
Mr Meena urged Dr Magufuli to honour his promise on ensuring that  press freedom reigns as he told editors and media owners at a meeting at the State House last year.
"What he has just said contradicts his promise and makes the media fraternity feel apprehensive. He should leave other authorities to do their job if it is true that the media has been violating laws," he said.
UTPC president Deogratius Nsokolo said Dr Magufuli's warning was a direct attack on the media, jeopardising the press freedom.
He urged the President to name the two newspapers.
"Banning or deregistering a publication is not a solution. It's  the suppression of the  press freedom," said Mr Nsokolo.
Kigoma Urban MP Zitto Kabwe (ACT-Wazalendo) said in his Facebook account that President Magufuli's warning should not be taken lightly.
"It's an order to his subordinates to ban the two newspapers," he said.
Media Council of Tanzania executive  secretary Kajubi Mukajanga said  since Dr Magufuli had not named the newspaper or the news he termed to be seditious journalists would start censoring themselves.
According to Mr Mukajanga, the fear will increase since it would be difficult to understand what kind of seditious stories that the President was referring to.