How JPM has given rivals a new agenda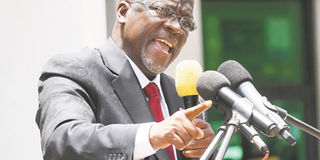 What you need to know:
Not surprisingly, the Opposition, led by Chadema, started to claim that the President was implementing its election manifesto. There was even talk of the Opposition becoming irrelevant.

Dar es Salaam. The government's ban on political rallies and demonstrations across the country could be a blessing in disguise for the Opposition, which was groping for a new agenda after last year's General Election. When President John Magufuli took over last November, he astounded both friend and foe by cracking down on corruption, wasteful spending and indiscipline in the civil service with zeal and energy that had never been previously seen.
Not surprisingly, the Opposition, led by Chadema, started to claim that the President was implementing its election manifesto. There was even talk of the Opposition becoming irrelevant.
According to Mr Richard Mbunda, a political scientist at the University of Dar es Salaam, the Opposition had found itself in an awkward situation position, with no agenda to sell to the people. But just when the Opposition seemed to be clutching at straws, the government threw it a lifeline by clamping down on freedom of expression and banning political rallies.
"The President should not have veered from the course of cleaning up civil service and the government in general. By going after the Opposition, he is not only wasting valuable time, but has also given them a new agenda, which they are using to great effect to draw public sympathy," Mr Mbunda said.
In his just ended tour of Lake Zone regions, Dr Magufuli said he was the only one who was supposed to hold rallies across the country because he was elected by all Tanzanians, adding that MPs and councillors should hold rallies in their respective constituencies and wards.
In saying this, President Magufuli had not only backtracked from the blanket ban on political rallies, but had also implied that politicians who were not elected to any public office were not allowed to hold public rallies, which is contrary to the Political Parties Act of 1992, Mr Mbunda said.
"We can't confine our politics to the constituency level. That's bad for the growth of our democracy and political parties, and what makes it even worse is that the move is spearheaded by someone who was democratically elected through a political party."
He also criticised Registrar of Political Parties Francis Mutungi for not advising the President appropriately.
"I'm sure the registrar is aware of the rights extended to political parties by the law and Constitution. He knows that all political parties have the right to hold rallies and demonstrations, and yet he comes out and states otherwise. I don't know if he is being driven by fear, but he's not helping the President and is instead laying the ground for political turmoil," Mr Mbunda said.
The national coordinator of the Human Rights Defenders Coalition (THRDS), Mr Onesmo Olengurumwa, said the President's statement that MPs could hold rallies in their constituencies only was wrong since such an arrangement was impracticable in this era of political pluralism.
He added that the fact that three MPs attended Dr Magufuli's rally in Geita showed that it was virtually impossible to limit politicians' participation in politics in a multiparty setting.
"But that aside, legally speaking, Dr Magufuli is trying to take away political parties' fundamental rights... he has no such powers. Democracy is not about elections alone, but making sure that state activities are conducted in accordance with laws and the Constitution."
Mr Olegurumwa said the economic development President Magufuli was striving to spur was possible only when there was rule of law and inclusivity.
"Libya is a good example. Under Muammar Gaddafi, the country attained a high level of economic development, but Libya imploded because democratic space was limited...we should not go the same route."
Former CUF deputy secretary-general Julius Mtatiro criticised Dr Magufuli's Lake Zone tour in a Facebook post.
He said the President campaigned for CCM and received new party members, but barred other parties from doing the same.
"He is spending a great deal of his time in lambasting opposition parties as useless. Opposition leaders have the same right to go around the country and connect with their members. It is sad to see what is going on, but we have to stop him from proceeding with his unconstitutional agenda."
Mr Mtatiro said Dr Magufuli wanted people to believe that it was opposition rallies and demonstrations that were to blame for industrial stagnation, poverty, corruption and ghost workers, and that it was in order to ban them.