How a start-up survived the odds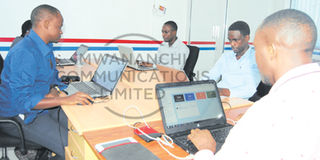 What you need to know:
About a decade ago, five classmates at Ilboru High school in Arusha—Stebbins Tugara, Alex Athanas, Innocent Charles, Denis Frimos and Vitus Ng'homi who were all pursuing Physics, Chemistry and Mathematics—hatched up the idea of starting an ICT firm after their university education.

Dar es Salaam. An English idiom, "Birds of a feather flock together", could perfectly apply in the situation of founders of Dar es Salaam-based ICT Pack Solutions company.
About a decade ago, five classmates at Ilboru High school in Arusha—Stebbins Tugara, Alex Athanas, Innocent Charles, Denis Frimos and Vitus Ng'homi who were all pursuing Physics, Chemistry and Mathematics—hatched up the idea of starting an ICT firm after their university education.
"Working in our own company was our dream. All we wanted was to become our own bosses instead of working for somebody else," says one of the young entrepreneurs.
Upon joining the University of Dar es Salaam (UDSM) in 2009, they pursued different courses but they kept their idea alive. They did this by engaging in various money-making projects.
By the time they were in their third year, they had created a website that fellow students used to search, share and store notes and other academic content apart from being used as a platform for giving updates on various issues at the university.
"We christened it 'Wasomi Online'. It is unfortunate that it died because the server host was reluctant. But, this did not stop us from pursuing other on-campus projects," says Tugara, firm's business development director.
So, based on the experience, Tugara tells The Citizen, upon graduating from the university in 2012, they raised some Sh340,000 that they used to purchase a server.
This was the beginning of a new direction in their endeavour towards self-employment. They used the facility to host people's website, blogs and other online platforms. This was the foundation of their company today.
"We had no office of our own. We'd usually work from Denis' room at Mpakani in Mwenge. There are times when we'd go to the university just to get a place to carry out our activities for the day," he explains.
It wasn't until in October 2013 that the five young men managed to have their firm registered.
However, Tugara says, it was not easy to find clients. After their first one, it took them about two months to find another. Naturally, fear started creeping in as to whether they could really make it.
"So, we ventured into starting a sports website where people could get updates and information about sports worldwide. After getting a good following, we started posting paid adverts to keep us going," he says.
In January 2014, the parent of one of the members helped them move a step higher, he gave them a room that they could use as their office at Kinondoni Biafra.
Ng'homi, who is the firm's director of project management, recalls that it was from this office that they started getting more clients. "All this time, it was hard to get even a small allowance. There were countless days when we would skip lunch or share just a plate," he says.
Their first big business deal came after Eco Bank placed an order with them to create a database. They handed over the design proposal in May 2014.
"We waited for the approval to start the work. This took nearly a year to be approved. We signed the contract and started the work but then the payment still wasn't enough to help us move to a bigger and better office," recalls Ng'homi.
Then, more deals came—with the Tanzania Communications Regulatory Authority (TCRA) under which they were to create a website and a database for stuff as well as for members of a Savings and Credit Cooperative Society (Saccos) for easy communication and updates respectively.
TCRA also contracted them to create a complaints registration system—a platform through which wananchi can report their grievances and cases they face in the line of communication including social media, telecommunication.
The young men went further to work with the Small Industries Development Organisation (Sido) and Deep Sea Fishing Authority (DSFA) in building information systems.
At the UDSM Information and Computer Technology Incubator, they made a Practical Training Management System which still exists to date.
The system helps final year students, who go for practical training, to search for organisations that would take them in as interns. Ng'homi explains that bit by bit they started seeing light at the end of the tunnel as the number of clients climbed. This necessitated them to find a bigger office, which they did at Makumbusho Victoria. "Slowly but surely, we were able to pay ourselves some allowances while investing further in the company's expansion," he says with a broad smile.
He says, as the firm made more revenue, early this year, they moved to a rented office at Green Acres Building at Victoria. They have more clients including the Association of Tanzania Employers (ATE) and the Cashewnut Board of Tanzania (CBT).
Frimos expounds further that they intend to chip into the Saccos and microfinance area, which they believe is less focused upon among ICT firms.
They intend to create solutions that would make the services more user friendly and marketable for more people to use.
As evidence of growth, the firm now employs 15 permanent staff, while taking in interns from various universities and colleges.
During a recent exclusive interview with some teaching staff at the UDSM's Information and Communication Technology Incubator (Udicti) on ICT issues in the country it was discovered that the country has many talented young men and women who have the potential to take the country to the next level.
Vidate Msoka, who is an assistant lecturer at Udicti says: "The government seems to be less keen on exploiting locally available potential instead spending huge sums of money on experts."
"It is the locals who can be passionate and patriotic enough to build their country, but the government doesn't take this advantage," she adds. She opines that if the government would invest more in local talent, then Tanzania would prosper at a faster pace in technology and even transform the country's economic fortunes.
The five young men urged the government to loosen up rules and procedures that frustrate graduates and the youth who want to start own firms.
"These long and complicated procedures highly discourage young people with their startup projects. Taxes are too high. Sometimes even firms that have not landed any deal are required to pay tax just like well established businesses, this needs to change," argues Frimos.