JPM storms finance ministry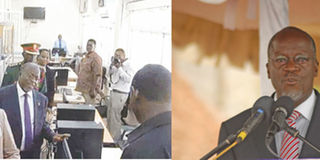 Summary
The fifth President of the United Republic of Tanzania who was sworn in on Thursday had a busy morning, the first day on the job, swearing in his Attorney General George Masaju before paying a surprise visit to the Treasury
Dar es Salaam. It was apparently not going to take long before the 'bulldozer' President John Magufuli, was back to his best element.
Only hours after he spent his first night at the State House as President, Dr Magufuli yesterday threw protocol out of the window and got back to his ways that made him popular with the public for over 15 years that he served as a cabinet minister.
The fifth President of the United Republic of Tanzania who was sworn in on Thursday had a busy morning Friday, the first day on the job, swearing in his Attorney General George Masaju at 10 am.
But it was his decision three hours later to walk to the ministry of Finance unannounced that caught his security detail and protocol officers at the State House by surprise.
Members of the public nearby were also caught off guard and watched the President's antics with a mixture of excitement and bewilderment.
However, for those familiar with Dr Magufuli, it evoked memories and pictures of him working on road trenches at night, setting up a snare for weighbridge inspectors by riding incognito in trucks and storming regional offices unannounced.
And yesterday he stormed the neighbouring headquarters of the ministry of Finance, some 20 minutes to 1pm without notice, sending staff into a panic mode, with some scampering for cover as others simply froze in their track.
His unexpected presence overwhelmed scores of the employees and a few he beckoned over could be seen trembling.
It was unclear what President Magufuli's mission at the ministry was but, he peeped into offices, some empty and asked those he met questions about their work.
In the dispatch room, he found only two employees with disability and inquired from them the whereabouts and names of six others whose chairs were empty.
"Who sits here? What is his name? And who sits there…and… there, where are they now?" Dr Magufuli asked, breaking the ice by a laugh once he realised the exchange was tensed up. He was told that some had gone to take tea.
He told the workers that he wanted them to work hard and be accountable on duty.
The President later walked into the office of the Permanent Secretary, Dr Servacius Likwelile, and held a brief chat with him and his deputy Ms Dorothy Mwanyika.
Officials in the entourage later told The Citizen that President Magufuli told the ministry of Finance technocrats that he wanted them to ensure enough revenue and tax is collected by the government to ensure he had the money to deliver on his promises. "I want you to raise enough funds for me to deliver free education as I promised. I do not want to hear big businesses enjoying tax exemptions," Dr Magufuli was quoted as saying in his meeting, the first with any government ministry. He signed the visitors' book during his 25 minute visit.
During his campaigning for the presidency, Dr Magufuli promised that all Tanzanian students would study for free from primary to secondary level if he became president. The pledge takes effect from January 2016. By visiting the ministry of Finance and targeting the tax waivers, Dr Magufuli may have signalled where he intends to raise the money to fund many and costly promises he made.
Tanzania has one of the biggest tax exemption rates in the region, with the relief amounting to 4.3 per cent of the Gross Domestic Product (GDP) by 2012. Other countries such as Kenya and Uganda have their rates below 2 per cent.
The country tax relief has risen over the years from Sh680 billion (15 per cent of total revenue collection) in 2009 to a staggering Sh1.8 trillion (27 per cent of total revenue collection) in 2012, when the government-faced with dwindling local revenue sources and reluctant donors- committed to bringing the figure down to 1 per cent by the turn of the current financial year.
Tanzania is facing a budget deficit of $2.2 billion (about Sh5 trillion) in the next financial year amid narrowing funding options due to the country's high debt levels, limited revenue sources and unpredictability of donor support.
The huge deficit has raised concerns over its ability to implement key development projects in the next financial year.
Economic experts have warned that the deficit could see government slash capital spending so as to free up cash for recurrent expenditure and miscellaneous demands.
Dr Magufuli who swept into power with promise to continue his hard work and public discipline was doing what the public would expect of him but when his government settles to work, the hard part would just have begun.
Yesterday's trademark visit remotely compares with his predecessor Jakaya Kikwete who in his first term as president in 2006, started by visiting all the ministries and setting his targets and expectations for them. His were planned visits but whose excitement slowly ebbed as the toll on his presidency grew by the years.
Dr Magufuli knows the challenge ahead and the huge expectations of his presidency by the public and his efforts should therefore not be in vain. As he bid bye to Mr Kikwete who flew in a helicopter from the lawns of State House to his rural village in Bagamoyo in the evening, Magufuli returned into the hallowed walls of Magogoni address to begin the uncharted territory, alone.