JamiiForums drags the police to court over whistleblowers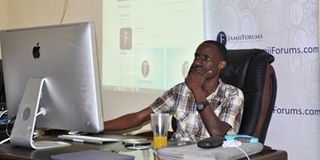 What you need to know:
The social media platform is asking the High Court to review Section 32 of the Cybercrime Act on disclosure of data
Dar es Salaam. Owners of the country's most popular social media -- JamiiForums -- yesterday filed a lawsuit asking the High Court of Tanzania to stop the Police Force from compelling them to reveal names of graft and tax evasion whistleblowers.
Jamii Media, a company that runs JamiiForums.com and FikraPevu.com, claimed the Force had for the past three months been writing to them, demanding names of individuals giving them information on sensitive issues, including grand corruption and tax evasion.
The company, which commands about four million online readers a month, is asking the High Court to review Section 32 of the Cybercrime Act on disclosure of data and Section 38 on issues of court proceedings.
Section 32 allows the Police Force to order any person to disclose data required for criminal investigation or prosecution.
Under the law, if the owner of the data does not cooperate, a law enforcement officer may ask the court to compel the online service provider to submit particulars of its subscribers for investigation.
"We received four threats jeopardizing the right of Tanzanians using the internet, prompting us to recourse to court in a bid to protect the right to freedom of expression and opinion guaranteed by article 18 of the Constitution," Jamii Media executive director Maxence Melo said.
Mr Melo said he wanted the court to review sections 32 and 38 of the Cybercrime Act for breaching of fundamental right of Tanzanians to use the internet as stipulated in Article 30(3) of the 1977 Constitution.
Under the Article, any person thinking that a certain provision in any law violates his right or duty may institute proceedings in the High Court for redress.
Mr Melo said for the meantime, JamiiForums would continue with its operations to esnure visitors of the blog were secure enough to vent their grudges and in so doing assisting the government in exposing the rot for the interest of the nation.
"JamiiForums supports President John Magufuli's efforts to fight against graft by providing a secured platform for wananchi to expose things which delay national progress," he said.
Mr Melo claimed that founders and other staff of the blog had been facing a number of challenges from the Police Force which were preventing them from executing their duties smoothly.
"JamiiForums wants to know provisions of the law we've breached, yet we end up getting unsatisfactory explanations and threats from the law enforcers," he said.