LOCAL FEATURE: The revolution of Internet access in Tanzania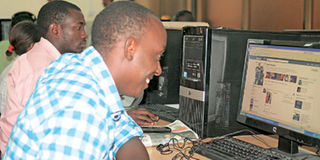 Summary
IT experts predict that, apart from the considerably faster bandwidth now and in the future, 4G LTE is also expected to become the standard for cellular networks for at least the next decade and possibly even beyond – meaning that it will stay long in the market before new innovations can replace it
Dar es Salaam. Internet users all over the country have reason to rejoice, as they can look forward to something groundbreaking. The next big thing in terms of communication- and Internet service provision –the 4G LTE technology – was recently introduced in Tanzania, the first country on the continent.
Historically, Internet services in Tanzania started in 1995. Five years later, in 2000, the country had only 115,000 people connected to the Internet. That number has grown significantly since then. Currently more than 6 million citizens, out of 45 million people, access the Internet on a daily basis –reaching a penetration rate of 11.5 per cent of the population.
One of the milestones preceding the introduction of 4G LTE in Tanzania – seen by experts as "the superhighway of data transfer" - has been the government's accomplishment to launch the so-called National Information Communication Technology Broadband Backbone (NICTBB). 4G is an acronym for 4th generation mobile data technology, while LTE stands for Long Term Evolution. While the previous generations of mobile data technologies lacked the ability to significantly expand their bandwidths, the LTE technology is an expandable entity, meaning that the speed will become noticeably faster over time. 
IT experts predict that, apart from considerably faster bandwidth now and in the future, 4G LTE are also expected to become the standard for cellular networks for at least the next decade and possibly even beyond – meaning that it will stay long in the market before new innovations can replace it.
For everyday users of the Internet – both in the public and private sector – the new 4G LTE technology is groundbreaking for quite a few reasons. Basically it will enable the transfer of remarkably bigger quantities of data at an unprecedented speed, allowing for a whole different scope of work, entertainment and social interaction online.
Depending on what the internet is used for, 4G LTE opens up for many interesting possibilities: Individual users will enjoy extremely fast up- and downloads, video- and music streaming without buffering and instant online browsing.
The business community will have the option of working out of office and on the move, allowing for more geographical flexibility and closer customer contact. Businesses depending on reliable and fast Internet connections, like banks, investment companies, online marketers and logistic companies, will see a bright future in 4G LTE.
The public- and governmental sectors are given a well needed tool to survey, monitor and communicate over long distances, while educational institutions of all kind will have the possibility to access educational videos, online lectures and access to the newest research.
Though the majority of Tanzanians are still ignorant of this groundbreaking technology, interest is spreading. James Paul, an ICT student at Dar es Salaam Institute of Technology (DIT), sees great potential for 4G to support faster mobile broadband plans and to better support new services, such as group video-conferencing and mobile gaming. "With this technology, people who reside in areas with high 4G coverage can use it to access the Internet on the move, without having to be in a wireless hotspot or connected to a modem" added Mr. James.
"I really appreciate the speed of the new technology introduced in our country. The next thing that Internet service providers have to do is to educate users on this new development and on how people can seize the opportunities coming with these technologies," says Chleophas Elias, a Dar es Salaam resident who had experienced the new technology first hand. According to the Sub-Saharan Africa Mobile Observatory 2012 report, the connection to the broadband has put Tanzania among the top five markets (together with Nigeria, South Africa, Kenya and Ghana) in which operators have in the past five years invested $16.5 billion to upgrade and improve service provision infrastructure.
The report also states that most Internet access in Tanzania so far has been through desktops (constituting 78.5 per cent), and mobile devices (constituting 21.5 per cent). Even though 4G LTE communication frequencies are already available in the country, this has not yet reached the majority of Tanzanians to enjoy the plight of high-speed Internet service. But due to ever-cheaper smartphones, access to the Internet is in a steep rise – and the report indicates that in a very foreseeable future we will see an explosion in internet connections through these handsets.
Mobile broadband has the potential to further increase economic productivity through improved information flows, reduced travel time and -costs, improved business efficiency, better education and better public service.
Based on the potential of the mobile industry to continue acting as a catalyst for growth, the latest introduction of 4G LTE in Tanzania is therefore most welcomed.