MPs say report on mineral concentrates 'very shocking'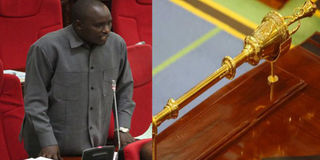 Summary
The chairperson of the Parliamentary Committee on Energy and Minerals, Mr Dotto Biteko (Bukombe-CCM), said his committee had been getting a different government report on the matter
Dodoma. Members of Parliament yesterday received the report on content of copper concentrates with what they termed "huge shock" and expressed solidarity with President John Magufuli.
The chairperson of the Parliamentary Committee on Energy and Minerals, Mr Dotto Biteko (Bukombe-CCM), said his committee had been getting a different government report on the matter. "Ministry of Energy and Minerals officials were feeding us with lies, showing us that all was well. Today, we have seen a very different report presented to the President," he said.
He further noted that government officials should take note that the President was not taking things lightly and they would one day be nmade to account for their actions. "I believe all officials involved will be dealt with accordingly as the presidential committee has recommended," he said.
Parliamentary Committee on Industry, Trade and Environment chair Stanslaus Nyongo said the report was most shocking.
"It is hard to imagine the amount of wealth that we have been losing all these years. It is a huge loss. For years, our officials made us believe that there was nothing shoddy in the export of copper concentrates for smelting, but today we have found out that was big lie," he noted.
Mr Nyongo advised the President to ensure all officials, who fed Tanzanians with false information are taken to account.
Dr Faustine Ndugulile (Kigamboni-CCM) said the presidential committee sealed the debate on content of copper concentrates. "Losing almost Sh1.4 trillion per month is not a simple thing. The President is right in taking action against all involved officials. Yes, Prof Sospeter Muhongo has to go. He must be held to account for the mistakes of his subordinates."
Mr Ally Saleh (Malindi-CUF) said it was hard to cross any rational mind that there was no foul play in exporting copper concentrates.
"The committee has laid the truth bare. The country has been losing millions and local experts were being used in effecting stealing," he said.
Mr Saleh noted, however, that although the matter is being exposed with Prof Muhongo at the helm, the thefts started long before him.
"If the government is serious on this, it should go back in time and ensure all predecessors, who took part in the thefts, pay for their actions."
For his part, Mr Tundu Lissu raised concern over how to deal with the matter and advised the President to withdraw the country from all local and international contracts, which were beneficial to investors only. "This is not a new development. I have been writing about the thefts in this sector since 1998 before I became a politician. But the problem here is, we have endorsed laws and contracts both at international and local levels that are favourablle to mining giants. If we don't abandom them first, they (international investors) are going to come back and we will pay big time," he said.
Mr Lissu also called on President Magufuli to sack the deputy minister of Energy and Minerals, Dr Medard Kalemani, because before venturing into politics, he served as a senior legal officer in the ministry for years and was aware of all the shoddy contracts. He also called on the government to probe Prof Muhongo's predecessors so that they pay for the part they played in the scam