MPs split on proposal to allow teenage mothers back to school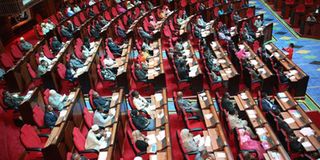 Summary
Lawmakers take contrasting positions, with some supporting the suggestion and others fiercely opposing it during a lively debate
Dodoma. Parliament was yesterday divided on the proposal to allow young girls to resume their studies after giving birth.
The two opposing camps comprised liberals seeking to have the current legal framework changed to allow girls back to school and conservatives defending the status quo.
The MPs were debating the 2017/18 budget estimates of the Ministry of Education, Science, Technology and Vocational Training presented on Saturday by Prof Joyce Ndalichako.
On Saturday, the Social Services and Community Development Committee and the Opposition asked Parliament to push for a change in policy that would allow girls to resume their studies after giving birth.
Battle lines were drawn yesterday morning when former First Lady Salma Kikwete (Nominated-CCM) declared that she did not support the proposal.
Mrs Kikwete told the House that she was a champion of girls' and women's rights, including education, but allowing teenage mothers back to school would be going too far.
"We should be mindful that, as a country, we have our cultural, customs and religious beliefs that prohibit prenuptial sex and therefore early pregnancies…we should be firm if we hope to have an ethical society,"she said.
According to Mrs Kikwete, laws that prohibit underage sex should be firmly enforced, adding that the problem would be largely solved if all those found to have impregnated underage schoolgirls would receive a 30-year jail sentence.
However, Mr Cecil Mwambe (Nanda-Chadema) cut her short on a point of information.
"I want to inform the Speaker that Lindi (where Mrs Kikwete comes from) and Mtwara are among the worst affected areas when it comes to teenage pregnancy. If she is defending the system of locking them out of school, what alternative is she suggesting to protect the welfare of the girls?"
Mrs Kikwete concluded that while such girls needed assistance, allowing them back to school should not be an option.
"Yes, we should think of other ways of helping them but not take them back to classrooms with other children."
Mr Almasi Maige (Tabora North-CCM) told the House that as a conservative Muslim, he too did not support the proposal.
"All religions are against this…after all, we have stringent legislation on this issue. Why are we diverting from it? Why should we jail amorous men, but allow errant girls back to school?" he asked.
Mr Ally Keisy (Nkasi-CCM) challenged women MPs to tell the House if they started to engage in sexual activity while still in school.
"We are supposed to be firm on these issues otherwise we will find ourselves approving same-sex marriage," he said.
The Shadow Minister of Education, Science, Technology and Vocational Training, Ms Susan Lyimo, said she was saddened by Mrs Kikwete's statement.
"This is a very serious matter. Now I do understand why her husband (Retired President Jakaya Kikwete) said when he was in office that girls only have themselves to blame."
She also took a swipe at the Deputy Minister of Education, Science, Technology and Vocational Training, Ms Stella Manyanya, for applauding Mrs Kikwete as she spoke.
"This shows that she is in support of our girls being locked out. This means that she was not telling the truth in the House back in February when she promised that a circular allowing girls back to school would be ready by March. It's not surprising that the circular is nowhere to be seen."
This prompted Home Affairs minister Mwigulu Nchemba to stand up on a point of information.
"The honourable MP should stick to the matter being debated instead of attacking others. I, for one, believe in punitive measures to deal with this problem. I support the jailing of men for 30 years and girls being kicked out of school."
Ms Tauhida Nyimbo (Special Seats-CCM) asked her fellow lawmakers to soberly discuss the issue, saying it was mostly the children of the poor who were suffering the most.
"The fact is that if the daughter of an MP or any other well-to-do person gets pregnant while in school, chances are that that will not be the end of their educational journey. They are sure to be sent back to school after giving birth. Why should we lock out girls from poor families? How can we end the vicious cycle of poverty? Let's be fair."