Magufuli asks Israel to invest in drug industries in Tanzania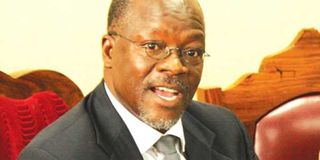 Summary
JPM appeals to the Israel government to assist Tanzania in establishing pharmaceutical industries, saying the country is currently spending sums of enormous money to purchase essential medicines and medical supplies abroad.
Dar es Salaam. President John Magufuli has appealed to Israel government to assist Tanzania in building pharmaceutical manufacturing plants, saying the country spends huge sums of money on essential medicines and medical supplies abroad.
He further asserted that his government was committed to providing the investors with requisite incentives to facilitate establishment of the pharmaceutical firms.
He also assured the Israel Ambassador to Tanzania of government's commitment to continue deepening diplomatic, socioeconomic and cultural ties with Israel and other foreign countries including the US.
"Despite a massive increase of health budget from Sh31 billion to Sh270 billion, Tanzania is still facing critical shortages of medical equipment," he said.
He added "I can assure the investors of reliable market once they come and build drug manufacturing plants here. And this on top of the fact that Tanzania has been accredited to supply drugs across the SADC region,"
Dr Magufuli said this when he addressed cardiologists from Muhimbili National Hospital (MNH) and their counterparts from Israel and the US in a televised meeting at State House on Thursday, November 8.
He added: "Establishment of pharmaceutical industries would reduce government expenditure abroad on essential medicines and medical supplies abroad."
Commenting further on Tanzania's partnership with Israel, Dr Magufuli hailed Israel for its continued support to Tanzania, particularly in health sector, citing that his decision to open the Tanzanian Embassy in Israel aimed at strengthening partnerships between the two governments.
In May, Tanzania opened its embassy in Tel Aviv, becoming the 15th African state to open an embassy in Israel; hence it signifies Tanzania's renewed friendship with Israel.
In addition, Dr Magufuli offered the foreign cardiologists 'a free of charge tour' to country's attractions sites particularly the Serengeti National Park.
Furthermore, the President appealed to the Israel government and the US to extend their support to Tanzania in facilitating training programmes focused to build capacity of local doctors in different areas of specializations.
Meanwhile, the MNH cardiologists especially from the Jakaya Kikwete Cardiac Institute (JKCI) in collaboration with their counterparts from Israel, the US and Canada have embarked on performing at least 51 heart surgeries.
Speaking to The Citizen over the phone on Thursday, JKCI executive deirector Prof Mohammed Janabi revealed that the specialists had already started performing the surgeries on Tuesday, citing that two surgeries were done so far.
"At least 10 out of 51 surgeries will involve a total opening of chest while the rest will be performed through a small incision in the chest (thoracoscopic surgery)," he clarified.