Mobile farming takes shape in Tanzania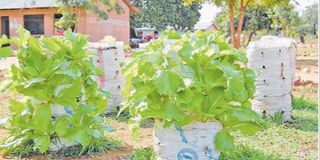 Summary
While traditional farmers upcountry need land on which to grow agricultural crops, urban dwellers can now also carry out agricultural activities – thanks to the introduction of what is literally a mobile farming system

Dar es Salaam. Tanzanians can now move with their farms from one place to another, thanks to the introduction of a movable farm.
A mobile farm involves movable farming technology that uses plastic containers of soil and compost manure to grow long- and short-term crops.
The farms are termed 'mobile' on account of the fact that they can be moved from one place to another, using a suitable motor vehicle.
The concept was initiated by Mr Laurian Mchau, a researcher and innovator in various areas including wind energy and recycling.
Regarding mobile farming, Mr Mchau was motivated to serve urban dwellers who virtually have no land for agricultural activities.
In any case, he says, the mobile farming technology can be applied anywhere, including in rural areas.
"I call it movable or mobile farm because the system can be moved from place to place. I came up with the idea to enable Tanzanians who have no permanent farming land can still do agriculture," Mr Mchau explains.
Revealing that he adopted the idea from China where he attended a training programme on how technology can transform agriculture for the better, Mr Mchau says: "I use plastic containers, including buckets, to create mobile farms. I cut them flat, put on them compost-manured soil – and plant crop seeds on that."
He also conducts feasibility studies to identify areas which are suitable for mobile farming.
"The size of the area helps in designing the size of the farm, while local weather patterns help determine what kind of manure should be applied, and the kind of crop to be planted," he says.
However, the 'Mchau' mobile farming technology depends more on irrigation than on seasonal rain patterns. Also, it can use recycled water.
"The mobile farming technique has a mechanism that recycles used water which is then reused to irrigate the crops," he explained.
Also, he says, "this method involves certain technical procedures which need my lead. For instance: mixing manures with soils; setting up the mechanism that recycles used water, and interpreting the weather need special skills," he states -- insisting that not everyone can operate the mobile farm system and, as such, farmers have to consult him as a matter of course.
In terms of mobile farming costs, one needs between Sh300,000 and Sh2 million to start mobile farming. It all depends upon farm-size and crop types one chooses.
"The money covers farm preparation costs and consultation fees for me for conducting the requisite feasibility studies to evaluate farm size and what kind of crop(s) a farmer needs to grow," Mr Mchau explained.
That sum also pays for the water recycling mechanism that collects and recycles water for irrigation in a natural way, using no chemicals.
Preliminary preparations for a mobile farm can take 35 to 65 days, depending on the size of the farm and kind of crops to be grown. According to the inventor, crops grown on the farms contain all their natural ingredients, as all the farm preparation, planting and harvesting processes follow natural farming procedures.
"We use organic crops and manured soils, as well as recycling used water in a natural way. This makes sure that the taste and nutrient value of the crop remains natural," Mr Mchau states.
Mobile farming suits small scale farming best, so that it can be easily moved from one place to another as and when desired or necessary.
"This kind of farming is suitable for urban centres like Dar es Salaam city where population density is high, and farming land scarce," he says.
The farming can successfully be conducted on land as little as five square metres in area.
"By covering small spaces, mobile farming is neighbours-friendly. Also, house tenants can move with their mobile farms when they shift from one house or flat/apartment to another," he notes.
The concept is already operating in Dar es Salaam city, and plans are afoot to extend it to other metropolises across the country.
It started in the nation's biggest metropolis "because most of Dar residents live in rented houses where they cannot readily access land," he noted.
A study conducted by the Centre for Affordable Housing Finance in Africa (CAHF) found that more than 55 per cent of the residential houses in Dar es Salam are for rent.
Also, CAHF says, until October 2017, Dar city had over 590,000 renting households.
Noting that agriculture is still the backbone of the Tanzanian economy – and that it engages nearly 70 per cent of the working population –Mr Mchau said "Dar residents prefer to consume food grown by Tanzanians; but they can't produce food crops themselves for lack of farmland," he explains.
This was the main reason why he worked on creating movable farms.
This is now a practicality, an idea he is spreading around.
In the event, he personally owns several mobile farm units at his home – each measuring 5-to-10 square meters – on which he grows a single crop-type.
Among the plants are assorted fruits, vegetables, peppers, sugarcane, bananas, mint trees, okra, tomatoes and lemon grasses (Cymbopogon citratus).
The mobile farm concept is steadily becoming popular among urban dwellers, and the demand is growing, keeping him busy with mobile farmers, extant and prospective.
Mr Mchau, 57, is a primary school graduate with technical education from various Vocational Educational and Training Authority (Veta) centres.
He has also attended local and international innovation training courses and seminars. His operating facilities are located in the Ubungo-External area of Dar es Salaam city, where he deals with wind energy, movable farming, and the recycling of used water and solid waste.