Private sector urges govt to improve business climate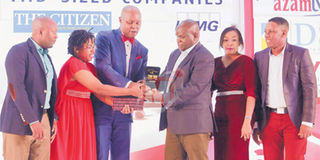 Summary
Executives cite policy unpredictability, taxation, liquidity crisis and low government spending as some of the negative elements threatening the survival of Tanzanian businesses
Dar es Salaam. The private sector has reiterated its call on  the government to improve the business environment amid widespread concerns over the impact of the prevailing regulatory regime.
At the Top 100 Mid-sized Companies awards ceremony Friday night, business executives singled out policy unpredictability as one of the major issues that the government needs to urgently address.
They also expressed concerns over the 'brutality' of the Tanzania Revenue Authority (TRA), liquidity crunch and low government spending as negative elements that are threatening the survival of business.  
"Unpredictability of policy, especially fiscal policy, acts as a deterrent to having a long term view,"  Mr Francis Nanai, Mwananchi Communications Limited managing director  said.
He was delivering his speech to a gathering of senior business executives, senior government officials and entrepreneurs who attended the prestigious corporate awards ceremony.
The Tanzania Top 100 mid-sized companies is a brainchild of Mwananchi Communications Ltd (MCL) and KPMG.
It's purpose is to identify the fastest growing medium sized companies in the country, showcase business excellence and highlight some of the most successful entrepreneurship stories.
Industries, Trade and Investment minister Charles Mwijage, who officiated this year's awards gala at the Mlimani City Conference hall, sought to reassure jittery business leaders that the current difficult phase was a necessary dose aimed at strengthening their operations.
In his speech, the minister told the private sector to be patient, saying the hardships they were going through, were only temporary.
"The private sector in Tanzania is not that competitive, so my task is to make sure the sector is competitive," he said. "I can assure you this is just a transition, and in the transition period many things occur."
The minister said he had formed a team of five experts who will, in November, be listening to business on matters related to taxation and policy unpredictability -- seemingly a thorny issue among private sector players.
Mr Nanai noted that policies should be clearly defined and investors need to be reassured that their investments are safe.
His sentiments were echoed by Advent Construction Ltd managing director Dhruv Jog, who said that more investor-friendly laws should be embraced, and barriers to doing business reduced.
"Help our businesses to grow, so we will help the country to grow in terms of honouring our tax obligations and employment creation," Mr Jog said.
Tanzania, he said, stands a better chance to compete for capital and investment at the global level, only if policies were more attractive and more predictable.
Mr Nanai also urged the government to reconsider its stance on spending and doing business with the private sector, saying this was necessary   to stimulate economic growth. The MCL boss said despite reports that the macro-economy was stable, the single digit inflation rate and stable exchange rate,   there is a general public feeling that life has become  harder.
Businesses, he said, were struggling, sales declining, profits shrinking, losses becoming the order of the day and small to medium sized enterprises (SMEs) are closing shop.
"Things are tough on the ground… so as the business community, we are calling on  the government to increase  spending or consider a stimulus package, if need be," he said.
Business leaders also pointed an accusing finger at TRA whose 'foot soldiers' have been embroiled in cases of harassment and unfair tax assessment.   
Meanwhile, MCL executive editor Bakari Machumu  urged businesses to participate in the Top 100 mid-sized companies survey.
He also advised companies to think outside the box, and consider streamlining their operations to survive the current business environment.