Why university applicants must choose degree programmes wisely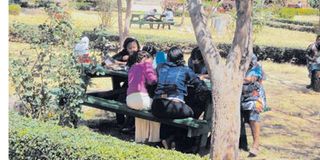 What you need to know:
With thousands of teachers still unemployed, the fact is; the government's preference has changed and science teachers are the ones in demand.

Those planning to pursue education degrees in arts subjects in the next high learning academic year should reconsider their decisions.
With thousands of teachers still unemployed, the fact is; the government's preference has changed and science teachers are the ones in demand.
However, for those craving the noble profession for the sake employing themselves--- it is not a waste of time.
Finding by The Citizen shows that the demand for arts subjects' teachers for secondary schools has dropped sharply both in government and private schools.
A decade ago, they were among the most sought-after teachers.
The poor demand means all applicants eyeing the courses must be wiser. They have to consider pursuing others courses if they want immediate employment after graduation.
Enrolment to various universities and colleges is underway for the 2017/18 academic year, but excitement of joining higher learning institutions alone may lead many into wrong choices.
The first semester for begins next month.
Advanced Certificate of Secondary Education Examination (ACSEE) results released by National Examination Council of Tanzania (Necta) last month shows that 32,752 candidates have qualifications to enroll various courses in the country's universities.
Majority of them are those who pursued arts combinations in high school. It is the time of the year when students face dilemma over which marketable degree programmes they should pursue.
Traditionally, majority of them have preferred teaching courses to others for it was marketable. The graduates needed a simple for to fill before being posted to different schools across the country.
They were employed under permanent pensionable contracts and were assured to get government loans to pursue further studies.
However, the tables are turned as the government, which is the major employer, has suspended employments for arts subjects' teachers for secondary schools, vowing to employ science teachers only.
By December last year, the President's office-Regional Administration and Local Government (PO-Ralg) said it had 7,463 of arts teachers who were in 3,602 public secondary schools.
This was quite different from public primary schools where there was the demand of 47,151 arts teachers.
The high number of arts subjects' teachers in secondary school teachers has already prompted the government to come up with a plan of reallocating 7,000 teachers to the public primary schools to solve the current shortage.
Apart from the reallocation plan, in May the minister for State President' office-Public Service and Good Governance, Angela Kairuki announced to suspend employments for arts subjects teachers for secondary schools saying it would redeploy the available staff.
The number of art teachers might still go down after completion of ghost workers and fake academic certificates holders verification, which saw about 20,000 civil servants kicked out from the public service.
Permanent Secretary of PO-RALG Mussa Iyombe told The Citizen that the government would do another assessment to measure the actual need, saying many of those axed were teachers of arts subjects.
"This will help us to get the actual need in our schools before making any further decision," he said.
During the last financial year, the government had planned to employ 35,411 teachers for primary and secondary schools across the country.
According to the minister for state-PORALG, Mr George Simbachawene by March this year there were a total of 88,999 teachers for public secondary schools whereby 70,454 were for arts subjects and 18,545 for science and mathematics.
Back in 2007, form six graduates were given an opportunity by the government to join a three-month crash programme at various teaching colleges with a view to ending the teachers' shortage in ward secondary schools.
The government decision to freeze arts teachers' employment leaves graduates in the profession with one option—private secondary schools.
However, the current economic crunch, the private sector has been retrenching its man power, leaves education graduates who pursued arts subjects in total confusion.
The Consortium for Independent Education Providers in Sub- Saharan Africa (CIEPSSA) said the private sector will not be able to absorb arts subjects teachers available in the market, stressing that their focus is to boost science departments.
The CIEPSSA's chief executive officer Mr Benjamin Mkonya said the private schools will not employ arts teachers, considering the current need of more science teachers.
"We have to adapt to the new policy, the government want an industrial economy, so we will need more scientists who could major in engineering and health sectors," he said.
He said they also support the government's decision against recruiting the arts teachers and requested the Higher Education Students' Loans Board (HESLB) to stop financing students pursuing courses that are a priority for the country.
"There are a lot of arts teachers. It's enough. It's high time more efforts were put on promoting and strengthening science courses," added Mr Mkonya, who is a secretary general of the Tanzania Association of Managers and Owners of Non-Government Schools and Colleges (TAMONGOSCO).
Apparently, the country needs 24,716 teachers for mathematics and science subjects together with some 355 laboratory technicians.
But the government issued new terms of employment for teachers, saying it planned to recruit 4,129 teachers for science and mathematics as well as 400 laboratory technicians in a bid to support the industrialisation policy.
The new stand has disappointed graduates who had expectations to grab employments, with some regretting for their decision of pursuing teaching courses.
Mr Aminiel Kisali, a 2015 graduate from the Eckernforde Tanga University (ETU), took education course majoring in History and English as teaching subjects, but is still unemployed. Mr Kisali lamented that the government should have informed them of the irrelevance of their degree programmes before they joined higher learning institutions.
For him and most of his friends, the effort used pursuing their first degree was a waste of time.
The Citizen has learnt that some have ended up working as part time teachers at secondary schools and tuition centres.
The average income these teachers earn from those institutions is about Sh150,000 per month, which is less than half of the governments' prescribed minimum wage.
"I opted for education course with expectations to secure direct employment in public sector because it was the only place where permanent contracts could be obtained, but what happened is vice versa," said Mr Kisali.
As part of efforts to keep what they learnt relevant, some of them tried their luck by opting to volunteer in teaching in public schools, but life was tough for the government schools have no extra budget for part time teachers.
"I have even tried to volunteer in some schools with hopes that I would be considered in their payroll, but that never happened...life is so tough," he explained.
Mr Kisali is now engaged in small scale farming at his father's farm in Mtwara. Ms Matrona Lucas, who took Geography and Kiswahili as her teaching subjects at the Iringa based Ruaha Catholic University (RUCU), was enthusiastic about her profession, but she has given up and is now a businesswoman.
Ms Lucas said due to economic hardship, limited employment opportunities and what she termed as poor connections, Ms Lucas decided to abandon her profession and join business groups to make ends meet.
"I like teaching. I had high hopes about this profession, but unfortunately they were false. I just had to find other activities to make ends meet," she said.
The young graduate's endeavours are in line with the advice by the education expert, Mr Ezekiel Oluoch who urged them to try other activities as sources of income.
"I'm sure that those who haven't secured employments haven't lost hope. They should just start other businesses instead of waiting for the government's employment," he said.
Mr Oluoch, who is the Deputy Secretary General of Tanzania Teachers Union (TTU), was of the view that the government would later employ these teachers, saying that the sector was facing a shortage of 100,000 teachers for primary schools and some 50,000 for secondary schools on both arts and science subjects.
According to him, the government is being misled by the teacher's statistics, which drew the conclusion on the decline of the demand of the teachers for arts subjects.
"Apparently, the government recognises the Pupil-Teacher ratio, which stands at 1:40, which is not true. Many classes across the country have more than 90 students," he added.
For him, the government's decision was due to budget constraints.
He also urged the government to ensure the effectively implementation of the ruling party's election manifesto of 2015, which pledges to execute the 2014 education policy.
He said: "The policy indicates that by 2020 all primary schools will be converted to secondary schools, thus create a need of about 250,000 teachers, in this case I would ask people to keep applying for teaching courses."