World Bank stance on loan release to Tanzania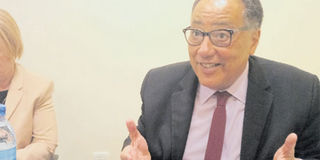 What you need to know:
The State House disclosed that the WB has agreed to release the loan, but it may take a bit longer before actual disbursement is finally made
Dar es Salaam. The World Bank's (WB) vice president for Africa, Dr Hafez Ghanem, held talks with President John Magufuli on Friday following a disputed $300 million (about Sh700 billion) loan to support education in Tanzania.
The State House has since issued a statement confirming that the WB finally agreed to release the loan.
However, ahead of his departure to the World Bank's headquarters in Washington on Saturday night, the WB's envoy, Dr Ghanem, briefed the media, expressing the financial institution's stance on the loan issuance, the Statistics Law Amendments, human rights and why it matters for Tanzania to allow pregnant schoolgirls to continue with their education. Excerpts:
Qn: You met and held talks with President John Magufuli [on Friday]. What was the agenda?
Ans: This is my first visit to Tanzania as vice president for Africa…the objective of the visit was mainly to discuss with the government on our programmes and especially the education project…we had delayed presentation of the education project to the board because we were concerned with the access to girls, pregnant or not, to education…so that's what I have been discussing with the government and I just finished discussions with the ministers…now we agreed to work on redesigning this project…to provide a pathway for girls who drop out of school for any reason, to get back into the system…we have agreed on the concept and our technical team will come up with details of how actually this concept can be in action…
Qn. The public believes that you have agreed to release the loan. Is it true?
Ans: First of all you have to understand how the World Bank works. We discuss the project with the government, we present it to the Board of Directors, they approve it and then we start disbursing. Disbursing typically takes about five years. So, what we have decided is to work together with the ministry of education, to redesign that project, so that we can take it to our board…the money can't be issued if the project hasn't gone to the board…it's the board of directors that will decide.
Qn: The WB has been withholding the loan, what has changed now?
Ans: What has changed is that we discussed it with the government and they have agreed to find a solution so that the girls can go back to school…this is what has changed…girls' education is central to development, we are a development institution, we cannot accept that some girls be denied education. If we accept that, we won't be doing development…since we have agreed with the government on that, then, we will work on the details...
Qn: When was the project supposed to kick off?
Ans: By October 30…and we will delay for as long as it takes to accommodate the agreements made with the government on access of education to pregnant school girls.
Qn: This current decision is on education, but the WB has also expressed concern over the Statistics Act which was passed by the Tanzanian Parliament in September this year. There was another statement on human rights issues, democracy and LGBTI. Is there any consideration for those aspects too?
Ans: We discussed with the government all those issues, especially on the Statistics Act. Statistics is our work…we need statistics that are reliable and credible because all our decisions and analyses as World Bank, are based on statistics, so, if we don't get reliable and credible statistics, we will be unable to do our work.
We made this clear to the government and the government made it clear to us that they are open to discussions on implementation and modalities of dealing with this, again, our technical team and statisticians are working with the government on the details..
On the case of human rights, and LGBTI, at the World Bank we have what we call the Environmental and Social Framework...that has been approved by all our member states, including Tanzania. It was only passed last month. This framework includes many elements and one of the principles is non-discrimination based on race, ethnicity, and gender or sex orientation. This was approved by all the shareholders of the WB. So, we clarified that to the government and we are reassured that there would be no more discrimination against people of any ethnicity, religion or sex orientation.
Qn: Was there any commitment by the government of Tanzania to reassure human rights, freedom of the press, democracy are observed?
Ans: We did not get into that, as you know we are the World Bank and we are not supposed to get into issues of politics.
We focused on education issues such as girls' education, access to data and non-discrimination. We did not discuss political issues.
Qn: On the Statistics law, which is now waiting to be assented to by the President. If that happens, what direction will the World Bank take?
Ans: I cannot answer a hypothetical question…I already explained that there is already an agreement on the way; on the agreed framework…we agreed that we will work on avoiding a system that stops us and others from having access to credible and transparent data, it's important for us, as World Bank, universities and all those dealing with data in this country, it's important for you, as a journalist…
Qn: Recently, there was a statement saying the World Bank was suspending visiting missions to Tanzania because of the LGBTI crackdown in the country. You talked to the government. Is there any consideration of lifting the suspension?
Ans: Yes, we will be considering that. But I cannot make the decision myself, this will be upon the people dealing with security and other departments in the bank.
I would recommend lifting the suspensions, based on the reassurances we got from the government. But I cannot know if it will be lifted…
Qn: There have been complaints from the private sector in Tanzania that they are being sidelined in doing business. From what you already know, as World Bank, about doing business in Tanzania, what would you advise?
Ans: It's extremely important that the private sector is considered. It's the engine for job creation…it needs to be encouraged and developed.
We believe that Tanzania needs to continue supporting the private sector.
I noticed that Tanzania has slipped in the index of ease of doing business in two years…this means that other countries have overtaken Tanzania in doing business and attracting investors…over time, this will have an impact on economy and jobs.
I think Tanzania needs to develop Public Private Partnerships (PPPs) in energy, transport and infrastructure. These are important in reducing debts, they bring efficacy and competent management, so Tanzania needs to encourage this.