Zambia deploys drones to fight poachers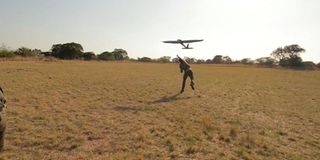 Lusaka. Zambia has launched drones surveillance in its national parks to curb poaching.
Tourism and Arts minister Charles Banda said the drones would "increase surveillance and curb poaching in national parks".
"The government is concerned with the levels of poaching," he said during the launch of the programme in the capital Lusaka.
"The use of unmanned aerial vehicles -UAVs technology will help provide surveillance in places where the wildlife staff cannot go to and will help to preserve wild life," he added.
Results of a three-year aerial survey of Africa's elephants published in 2016 revealed a dramatic 30 per cent decline in savannah species populations, largely due to poaching.
Other animals were also at risk, especially the rhino and cats whose by-products were highly valued in Asia for medicinal properties.
Poaching is rampant in Zambia as it acts as a source of income for the poor rural masses.
For instance, illegal snaring for bush meat in Eastern Province's Luangwa Valley was widespread and represents a major threat to important non-target species such as elephants, lions and wild dogs.
About 30 per cent of Zambia's 752,614 square kilometres is reserved for wildlife.
The southern Africa state has 20 national parks and 34 game management areas.