In memory of elephant specialist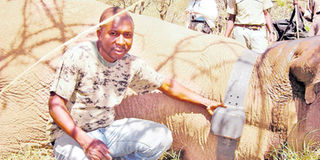 Summary
The person is Dr Alfred Kikoti, Tanzania's foremost elephant expert, who succumbed to death in Arusha on Saturday morning after a long illness associated with liver complications.

Dar es Salaam. If elephants were humans, then they would be mourning for the death of a person, who has been fighting for their protection and survival.
The person is Dr Alfred Kikoti, Tanzania's foremost elephant expert, who succumbed to death in Arusha on Saturday morning after a long illness associated with liver complications.
It is almost impossible to imagine any other Tanzanian expert with such insightful knowledge of elephants.
He could, at any time trace where herds of elephants are in any particular national park, among Tanzania's 16 national parks. His laptop had a programme, which enabled him to monitor movements of elephants in the country and no wonder, he never left it even he went to answer a call of nature.
Soon after Kulwa Karedea of Mtanzania broke the sad news on editors' social media Whatsup group yesterday, we all got shocked, wondering why death was so brutal to the point of taking from us a person, whose task was mainly to research and protect elephants.
Dr Kikoti and the media fraternity
For the past two years, Dr Kikoti was familiar to the media fraternity because he presented research papers during editors' workshops in Moshi last year and in Tanga four months ago, teaching journalists how to support the government to protect natural resources and double the number of tourists visiting Tanzania.
I remember, when we were in Moshi last year, Dr Kikoti was jovial, happy and cracked jokes with all of us during his presentation, but when we met him in Tanga in June this year, he looked quiet and reserved. Some of us predicted he was not well, but all the same we were happy to have him as our resource person.
Tanzania National Parks (Tanapa) Communications and Corporate Affairs manager Paschal Shelutete told me on Saturday that Dr Kikoti's death had saddened them and his presence would truly be missed.
Dr Kikoti biography shows that he trained and developed an extensive professional practice in conservation over the past 18 years with focus on elephant ecology and movement.
Beginning with a diploma in wildlife management from the College of African Wildlife Management in Mweka, Moshi Rural District, Kilimanjaro Region, Dr Kikoti pursuid a masters of science degree in protected landscape management from Wales University and a PhD from the University of Massachusetts in the United States.
He then worked with Tanapa, where he served as a park warden and head of community-based natural resource management and as a research biologist with the African Wildlife Foundation, while establishing a nongovernmental organisation, the World Elephant Centre.
Dr Kikoti's interests in elephant/human interactions led to extensive field research using satellite telemetry to document movements of elephants in support of major community planning and development projects such as in West Kilimanjaro, where he established the Hifadhi Network.
He was particularly interested in the influence of water availability and poaching, focusing considerable work on developing and monitoring elephant corridors or elephant paths, famously known as shoroba.
He also served as an expert adviser on trans-boundary movements in an international context.
Dr Kikoti conducted research in different national parks and other elephant corridors such as Saadani National Park, where he collared further elephants for monitoring purposes.
He also worked towards the establishment of an interpretive and research facility that could broaden understanding and appreciation of elephants around the world.
I still remember what Dr Kikoti said, when Mr Lazaro Nyalandu left the Ministry of Natural Resources and Tourism two years ago and I quote him:
His wish for the Ministry of Natural Resources and Tourism
"The outgoing of Nyalandu represents part of pouching because of his unwillingness to take on powerful networks of corruption in the Police Force, Immigration and Wildlife institutions and politicians, who help poachers operate unhindered."
He uttered the following statement to the successor of Mr Nyalandu in January last year. "I really hope that this new guy will make a difference... he will become the president of the jungle. He must fight for our wildlife and has promised he will. We wait and see."
It is also important to note that one of the nongovernmental organisations formed by Dr Kikoti is The Kesho Trust, whose vision is a world, where healthy, strong communities live in harmony with their environment and are instrumental to ensuring that the protected areas and conservation areas in which they live thrive and achieve the objectives for which they were established.
He formed this organisation to facilitate and support community activities that foster positive relationships between local communities and conservation of their protected areas.
The Kesho Trust works with community organisations and individuals to facilitate and enhance their capacity to achieve sustainability of community-based conservation and development initiatives.
In order for them to achieve a world, where healthy, strong communities live in harmony with their environment, the Kesho Trust has developed strategic aims, principles and policies that guide their work, thanks to Dr Kikoti efforts.
The NGO works through established partnerships as well as through project activities and its partnerships are the backbone of the Kesho Trust because they are the long-term commitments that can realise the strengthening of organisations, cooperation and relationships that will endure.
It is sad that you have gone too early Dr Kikoti and I hope that the laptop on which you documented a lot of information about elephants protection is now accessible to another person.
May you rest in peace my brother and I hope we will honour you by implementing what you left behind, while also waiting for our turn to travel through the same shoroba you went through that sorrowful morning.