Rwanda ex-convicts, freed suspects stuck in Arusha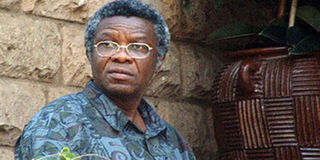 Summary
Mr Majola said there were seven acquitted persons and three ex-convicts who remain in safe houses in Arusha under the tribunal's care.
Arusha. Several Rwandans acquitted or released after serving sentences imposed by the International Criminal Tribunal for Rwanda (ICTR) are stuck in Arusha because no country is ready to accept them.
They have nowhere else to go because they fear returning to their home country.
This despite the Rwandan government having stated last year that the ten men who had either been acquitted by the ICRT or completed their sentences were free to return home if no other country was ready to take them in.
Those still stuck in Arusha are former Transport minister Andre Ntagerura, former Rwandan army general Gratien Kabiligi, former Health minister Casmir Bizimungu and businessman Protais Zigiranyirazo.
Others are former Foreign Affairs minister Jerome Bicamumpaka, former Commerce minister Justin Mugenzi, former Civil Servants minister Prosper Mugiraneza, former Rwandan army general Augustine Ndindiliyimana and former commander of the Reconnaissance Battalion Francis Xavier Nzuwonemeye.
The group also includes ex-convicts Anatole Ngesiyumva and Tharcisse Muvunyi, both former senior officers in the Rwandan army.
Rwandan Justice minister Tharcisse Karugarama last year met with the ICTR Registrar Bongani Majola and discussed the possible relocation of prisoners from Arusha to Rwanda as part of the residual mechanism of the tribunal.
Kigali said it would willingly take back the suspects because "they remain Rwandan citizens". But this drew an agry reaction from a section of genocide survivors.
The UN tribunal is now having problems relocating the Rwandans because countries which had initially agreed to host them have apparently made a U-turn.
Mr Majola said there were seven acquitted persons and three ex-convicts who remain in safe houses in Arusha under the tribunal's care.
He said Benin, Mali, France, Senegal, Sweden and Swaziland gad initially indicated their readiness to take in the ten men, but so far only two countries were ready to receive the acquitted persons.
Mr Majola said the tribunal was incurring huge expenses to keep the ex-convicts and the acquitted in safe houses in Arusha, adding that Tanzania has not been a preferred country for relocation for the former suspects of the 1994 genocide.
The issue of homeless ex-convicts, according to the Registrar, had become crucial because the ICTR is about to close its operations and depart from Arusha by the end of this year.
The tribunal was created in December 1994 to conduct trials of suspects believed to have taken part in the Rwandan genocide in which nearly a million Tutsis and moderate Hutus were slaughtered.
Mr Majola said the tribunal had not yet been able to find countries that were ready to accept any of the remaining acquitted persons despite prolonged negotiations with some countries through the United Nations High Commissioner for Refugees (UNHCR).
There were initially 14 acquitted persons, but the ICTR managed to relocate five of them after extensive bilateral negotiations. They include Ignace Bagilishema and Jean Mpambara, who were transferred to France.
Others were sent to other European countries. They include Hormisdas Nsengimana (now in Italy), Emmanuel Bagambiki (Belgium) and Andre Rwamakuba, who has resettled in Switzerland.
According to the Registrar, in all, 93 suspected leaders of the genocide were indicted of whom 75 were prosecuted and 62 either convicted and sentenced or freed. At least ten of the accused were later acquitted.
On the ICTR Completion Strategy, Mr Majola told The Citizen last week that only three suspects still at large would be brought to trial in Arusha once arrested and would be handed over to the Mechanism for International Criminal Tribunals (MICT) which will take over the remaining ICTR operations.
They include Felicien Kabuga, said to be the most wanted mastermind of the mass slaughter, and who has a $5 million (Sh8 billion) bounty on his head. Others are Protais Mpiriranya and Augustine Bizimana.
In June 2012, six other names were added to the list of those still being hunted down in various parts of the world, who will be sent to Rwanda for prosecution once arrested. They are Pheneas Munyarugarama, Fulgence Kayishema, Charles Sikuwabo, Ladislaus Ntaganzwa, one Ryandikayo and Aloys Ndibati.