Villagers use new ways as climate change bites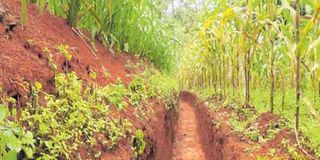 Summary
After experiencing the vanishing of vegetation, drying up of rivers and soil errosion which threatened their livelihood, villagers in Usambara East are now turning to environment-friendly farming techniques to offset climate change impacts.
Tanga. Climate change impacts threaten livelihoods of villagers in the East Usambara Mountains.
Natural vegetation is vanishing, rivers are drying up and soil is being eroded.
The situation has prompted villagers to use environment-friendly farming techniques to offset climate change impacts since 2013.
Before, many people considered climate change impacts far-fetched.
As the situation worsened they realised the actual situation and a campaign started, thanks to the Tanzania Forest Conservation Group (TFCG), Engineering for Human Development (Ongawa), Global Climate Change Plus Initiative (GCCAT), the European Union, Muheza District Council and Obra Social la Taixa (Faida Mali).
Now eight villages of Misalai and Zirai wards in Muheza District are trying out different crops and new technologies.
Residents of Shambangeda, Mgambo-Miembeni, Kwemsoso, Kazita, Misalai, Zirai, Kwelumbizi and Kizerui have adopted climate-smart agriculture (CSA) practices, introduced by Integrated Approaches for Climate Change Adaptation in East Usambara Mountains.
"I am doing terracing to protect soil from erosion," said Ms Anna Sabihi, a farmer at Mgambo Miembeni. "Farmers from neighbouring villages want us to teach them these techniques."
According to TFCG project manager Eustack Mtui, CSA is one of the interventions that are being taken in the project to enable poor rural households to adapt to negative impacts of climate change.
Eight communities living near the East Usambara Mountains have been supported to increase incomes, ensuring resilience and reducing vulnerability to climate change-related impacts. Mr Mtui said 27 CSA community groups composed of a total of 810 households have been established in eight villages.
The project supported training and capacity building of small-scale farmers that enabled them to start practising CSA.
"Our achievements lie in the fact that other villagers also seek to be trained in climate smart agricultural practices," he said.
Muheza District Council agricultural officer Sylvester Mziray said the training provided to villagers included establishment and management of spice crops, nurseries and prevention of soil erosion.
A total of 22,170 clove, 13,918 cinnamon and 12,198 black pepper seedlings have been planted in an effort to raise the farmers' incomes.
Farmers were also trained in soil and water conservation and food crop production.
The 27 community groups were supported with equipment.
There have been demonstration farms for villagers to learn practically.
One person from each group is trained to supervise the implementation of the climate-smart small-scale agricultural practices and spice production.