How lack of sanitary pads affects school girls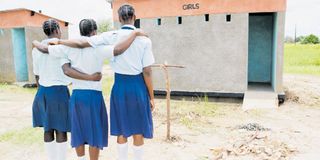 Atukuzwe Simon still remembers that embarrassing moment, when she first experienced her menstruation.
This 14-year-old girl was in Standard Seven and did not know what to do after that, because her mother or other relatives had not disclosed to her about what she would do, when faced with such a situation, and as a result, she failed to attend classes for two consecutive days.
What happened to Atukuzwe happens to tens of thousands of schoolgirls in both rural and urban areas.
The embarrassment they get is worse as bullying by their fellow pupils, particularly boys, becomes the order of the day, something that haunts the girls.
Some schoolgirls, especially in poor rural areas, miss their studies every time during their menstruation period.
Girls from poor families cannot afford sanitary pads, and lack of decent changing washrooms contributes to their poor class attendance during their monthly periods.
"What happened to me was a big lesson, which if I had prior knowledge, I could have avoided embarrassment in front of my classmates," said Atukuzwe, adding: "When in menstruation, I have to make sure that no one notices me."
"I would love to have sanitary pad in my school bag everyday so that whenever I feel like my period is about to start, I just go and put it on. However, it is very difficult to have the sanitary pads as I wish. I cannot afford it," said Atukuzwe, who is now in Form Two at Bogwe Secondary School in Kasulu District, Kigoma Region.
For Atukuzwe, it is not hygienic at all for a girl to get her period while in school. "If that happens at school, you can get a half-piece of a sanitary towel," she said. "We normally go and ask for the sanitary towel from our teachers as most students do not have the tendency of carrying any in our schoolbags," she explained.
According to her, what they normally do is cut one sanitary pad into half, which can serve two schoolgirls.
Atukuzwe's schoolmate, Anitha Danford, said it is very difficult to get sanitary towels at school, surrounding areas and even at home. "That doesn't mean that they are not available at all. They are not enough compared to the needs of the girls. The demand is higher than supply," she explained.
"Most of us use pieces of clothes during menstrual period because our poor families can't afford to buy sanitary towels. One must spend Sh2,000 for one bundle with 8 to 10 pieces of sanitary pads," she added.
No option, despite the risk
Anitha said despite knowing that the use of piece of clothes during period is unhygienic, she has sometimes no option, as she needs to cover herself and stay clean.
"I'm worried that such pieces of clothes, which we sometimes re-use after washing them with soap and clean water, might have side effects and cause health problems after using them for a long period of time," she said.
Health experts agree that menstrual hygiene is part of basic health hygiene and one of the most fundamental issues concerning reproductive health. For them, every girl should have the right to such services that would help them maintain their dignity and wellbeing during their menstruation period.
A physician in charge of Kigoma Ujiji hospital, Dr Kilawa Shindo, said there are lots of health risks girls are exposed to when using pieces of clothes, in most cases pieces of Khanga during their menstruation.
According to him, a woman exposes herself to a risk of getting Pelvic Inflammatory Disease through urine track if such pieces of clothes used are contaminated with fungi or bacteria.
"Also, most types of such pieces of clothes can easily get wet and stay wet for a long period of time compared to sanitary pads which are made to absorb the wetness and keep the user dry during period. Staying wet for a long time can easily attract fungus and itching will be inevitable," he added.
However, he said, in case there is no other option than using pieces of clothes, then such items should be washed properly with soap and clean water, dried and ironed in order to kill any bacteria and germs.
Apart from worries she has concerning her future reproductive health, Anitha raises concern over the rate at which schoolgirls miss classes during their menstruation period.
"It is really very difficult for most of us to handle ourselves during menstruation. We have to stay at home due to lack of decent changing washrooms at school. Although even at our homes we do not have such washrooms, it is better at home than in school," she explained, adding that abdominal pain during period compels most girls to stay at home.
According to Ritha Pamila, the academic teacher at Bogwe Secondary School, schoolgirls face a myriad of challenges, inadequate supply of sanitary towels being among the unnoticed ones.
"There was a time we used to receive some sanitary towels. At least we were able to help girls to manage well their menstrual flow while at school.
But the situation is not the same anymore. The number of girl students has increased and the demand for sanitary towels has increased too. What we have is not enough to cater for their needs. This, in turn, causes most girls to miss classes during their menstruation period," she said.
"Most of them are not comfortable when they are in their menstruation period as toilet facilities at school are not friendly to support them managing well their menstrual flow. Thus most school girls prefer to stay at home, something which affects their academic performance," she added.
The 2015 TAWASANET Menstruation Health Management study report shows that 75.8 per cent of school girls acknowledged that menstruation has effects in their performance in school.
Kazo Simon, a Social Worker Officer in Kasulu District, said it is difficult to notice the direct impact it has on girl's education. "The number of days that a girl will miss classes due to menstruation has a negative impact on their academic performance. Three days per cycle for each month is equivalent to not less than 30 days per year. If the cycle doesn't fall on weekends, then a girl misses a great part of class lessons," he said.
According to him, 70 per cent of boys did well in their examinations last year compared to girls. "Only 43 per cent of the girls passed their exams. Apart from other challenges such as doing a pile of domestic work after school hours, girl students often face unnoticed difficulties during their menstruation period," he added.
A teacher at Nyansha Secondary School in Kasulu District who preferred anonymity said sometimes the girls take doze off during classes due to stomach pain associated with menstruation; something that female teachers would easily understand and let the girl stay in class.
"As female teachers, we share the same feeling and we let the girls be instead of punishing them for sleeping during classes. Otherwise, they would not even attend classes during their next menstruation," she said.
The 2015 report by World Bank Group "Preparing the Next Generation in Tanzania: Challenges and Opportunities in Education," points out that "adequate sanitation and menstrual hygiene management increase adolescent girls' retention and participation in schools."
Emmanuel Russambi, Acting Education Officer at Kasulu District Council, commended education stakeholders for stepping up efforts to help girls who often face challenges during their menstruation.
"School Water Sanitation and Hygiene committees in collaboration with World Vision and Wekeza, a non-governmental organisation under the support of the International Rescue Committee (IRC), have helped in building toilets with special rooms for girls to use when they are in their menstruation period," he said.
"If you visit Buhoma and Makere wards, you will see some schools with such special toilets. Apart from the buildings the special changing facilities, education stakeholders such as non-governmental organisations have been providing sanitary towels to schools and also offering menstrual hygiene education to teachers and students," he noted.
According to the education officer, through their "Jiamini Una Uwezo" clubs, students are being taught and encouraged to believe in themselves. "Teachers are also being educated on how to help the girls who are in their period when in school," he added.