Puzzle as DPP holds 'missing lawyer'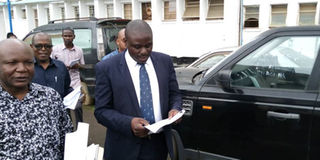 Arusha. Questions lingered yesterday after the Director of Public Prosecutions (DPP) Biswalo Mganga disclosed that his office was holding an Arusha-based lawyer whose whereabouts had triggered a social media storm last week.
The advocate, Mr Maneno Mbunda, is affiliated with the Arusha National Park (Anapa). He is reportedly being held with nine other people for "thorough investigations" into various offences.
Human rights activists had already issued a statement saying the lawyer had gone missing for seven days, until yesterday.
The advocate and nine others are being accused of committing economic sabotage, revealed the DPP when he spoke to journalists at a press conference held at his offices in Arusha Region yesterday.
The DPP further elaborated that the advocate and his colleague (name withheld) recently committed economic sabotage offence by deceiving the court on the price of elephant trophies and freed the accused. However, previously, the unconfirmed reports had suggested that Mr Mbunda was being kidnapped by unknown people after he went missing since April 28 this year.
The National Coordinator of the Tanzania Human Rights Defenders Coalition (THRDC), Mr Onesmo Olengurumwa, said: "According to the information availed by the advocate's family, the vehicle which was used by the kidnappers had no plate number."
He further said the incident took place at USA River area in Arusha, which raised questions and sparked fears that he had been abducted by unknown assailants.
The chairman of the Tanganyika Law Society (TLS) in Arusha, Elibariki Maeda said his office was closely following up the incident.
On social media, speculation was rife that the 'kidnappers' were policemen in civilian clothes.
When asked why the DPP office didn't not provide the information to the public about the advocate's whereabouts early, Mr Biswalo said, "We did not want to interfere with police investigations that led to detention of the other nine suspects."
The DPP revealed further that his office was holding another advocate Median Mwale after finding him guilty of money laundering .