Govt to redraft stalled Sagcot scheme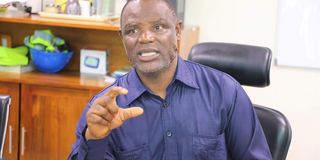 Summary
Agriculture minister Japhet Hasunga reveals that the shelving of the grant scheme for medium and small scale farmers was meant to allow a fresh start to suit Tanzania's current interests and priorities
Dar es Salaam. The government now says it will draft afresh the stalled Sh100 billion grant scheme for medium and small-scale farmers under the Southern Agricultural Growth Corridor of Tanzania (Sagcot).
Agriculture minister Japhet Hasunga said the Sagcot Catalyst Trust Fund (CTF) will be redrafted to suit the country's present priorities and interests.
"Implementing the project that had been delayed for more than three years would be of no benefit. We have therefore decided to review it to suit our present environment," Mr Hasunga told The Citizen in an interview.
The Citizen reported last week that CTF, which was meant to avail more than Sh100 billion in grants to smallholders, had been cancelled after the government and World Bank differed on its modalities.
CTF was a component under the main Sagcot which remains operational and separately managed by the Sagcot Centre. World Bank committed some $50 million (Sh115 billion) for CTF, with the government expected to provide up to $47 million (Sh108 billion) in Matching Grants Fund (MGF).
The WB manager for Africa communications, Mr Steven Shalita, confirmed to The Citizen that the government had asked to cancel the MGF, thereby making it untenable for the institution to issue the $50 million grant. The Citizen has learnt that ownership and management of the bankrolled projects was the main differing point. Mr Thomas Herlehy, team leader of the MGF, who resigned in January, was quoted by Africa Confidential saying that the government did not want to make matching grants to private sector agribusinesses. The government wanted to change the MGF from a grant scheme to a loan-based scheme. According to Mr Herlehy, it also insisted that any fixed assets which investors would purchase would, at some future date, be transferred to local rural district councils, which would hold the property on behalf of targeted smallholders.
However, this proposal was rejected by WB, which felt that it fell outside the scope of the grant agreement as signed with the government in 2016.
In his interview, Mr Hasunga noted that WB would be among several bilateral institutions that would be engaged to look at the redrafted scheme and for possible funding. The minister said the new decision considered the significance of the project to smallholders.
Sagcot's investment blueprint envisioned putting 350,000 hectares under production, creating 420,000 jobs and potential farming revenues of $1.2 billion by 2030.
It was launched at the World Economic Forum in Davos in 2010 as an ambitious public-private partnership designed to attract global agribusiness investors to huge swathes of Tanzania's most fertile land.