Plan afoot to boost dairy production in Tanzania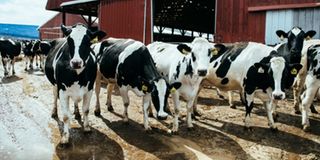 Summary
Government officials say the plan, which is part of the ongoing industrilisation drive, includes supporting the small scale dairy farmers to establish milk processing plants.
Moshi. The government is working on an investment package that is expected to boost dairy production as part of the country's industrialization drive.
This, according to officials, would include supporting the small scale dairy farmers to establish milk processing plants.
The assistant director responsible for business environment in the prime minister's office Christopher Mramba said in Arusha that the dairy sub is targeted under the industrialization drive due to its high potential.
He said this during an exhibition of the dairy and allied products which attracted dairy farmers, milk processors and input suppliers.
"Tanzania has a huge population of livestock yet we are importing milk and milk products. This is due to low productivity to meet the demand," he pointed out.
An advisor with the Netherlands Development Organization (SNV), Gema Kavishe, said the low price for milk was the main challenge facing the producers in Kilimanjaro region.
She said there was a mismatch between the market price of milk and the high cost of production.
Dairy farmers and milk processors have to cope with a string of levies and  taxes imposed by the local authorities which the government though promised this week in Dodoma that they will be scrapped.
The dairy expo in Moshi was organized to sensitive producers and processors on the modern technologies for the production of quality milk and milk products.
He challenged the government to put in place a policy which is more cost-effective for dairy production so as to benefit the farmers.
A dairy farmer and member of the dairy farmers cooperative union in Kilimanjaro region August Ernest said that they are now in need of a big dairy processing plant. 
However, he was categorical that they were short of the modern tools, relevant technologies and capital for the purpose. 
According to him, the union has 22 cooperative societies and 1,665 dairy farmers. He did not disclose the number of dairy cattle owned by the members.
Milk production in Tanzania is currently estimated to be 2.4 billion litres a year.
Consumption per capita, however, remains low at only 47 litres per year.
This is in sharp contrast with the 30.5 million heads of cattle the country has, among other milk producing domestic animals.
Dairy experts maintain the yield is not enough to enable the country achieve a 200 litre per capita consumption of the dairy product a year as recommended by the UN Food and Agricultural Organization (FAO).