CCM secretary general Dr Bashiru remarks on state powers trigger reaction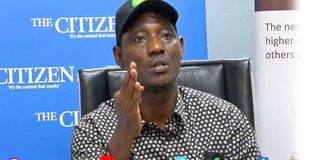 Summary
The main opposition party, Chadema, yesterday interpreted Dr Bashiru's remarks as intentional and a ploy by the ruling party to defeat the opposition through using state powers
Dar es Salaam. Remarks by the CCM secretary general Dr Bahisru Ally on ruling parties using the state apparatus to remain in power was yesterday greeted with mixed reactions from political analysts and politicians, with some saying due to current political temperatures, it was not the right time for him to utter such a statement. On Friday, during an event organised by IPP Media, Dr Bashiru said that ruling parties that failed to use state apparatus to stay in power should blame themselves because they had everything in their favour.
Reacting to the remarks during an interview with The Citizen, a political analyst from the University of Dar es Salaam (Udsm), Dr Richard Mbunda said  members of the opposition may have been irked by the remarks given the concerns raised on democracy over the years.  "The statement yet again must have annoyed the opposition given the questionable democratic issues surrounding the ruling party's governance. Dr Bashiru did not sound diplomatic at all," he said.
Dr Mbunda said it is generally known that ruling parties have the advantage of using the state apparatus to gain the trust of the public, but said given the political temperatures this year, the secretary's statement clearly triggered different interpretations. "People do interpret differently especially at a time like this that the country is heading to the general election. However, with all the state apparatus under the ruling party, still the opposition has a chance of winning the election if they convince the public," he noted.
Chadema yesterday interpreted Dr Bashiru's remarks as intentional and a ploy by the ruling party to defeat the opposition through using state powers. The Secretary General of Chadema John Mnyika linked Dr Bashiru's remarks with what he termed as the "silence" of the chairman of the ruling party, Dr John Magufuli, who doubles as the head of state in addressing the demands of the opposition for an independent electoral commission.  "Looking at what the CCM Secretary General said on using state apparatus to remain in power, and considering the silence of the ruling party's chairman on our demands for an independent electoral commission, it's obvious that CCM intends to use state powers in the forthcoming elections. We will use the power of the mass against them [CCM],'' said Mr Mnyika.  However, in his address at the IPP Media offices on Friday, the CCM top leader Dr Bashiru issued a disclaimer about his utterances, saying he meant that state powers means the people that the government serves and that ruling parties should not use the state power to mistreat their political opponents.