CSR is key to social sustainability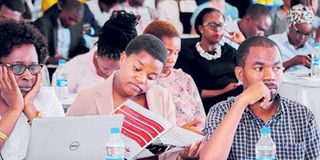 Dar es Salaam. Investing in corporate social responsibility (CSR) is increasingly becoming important as it contributes to sustainable development by delivering economic, social and environmental benefits for all.
However, CSR stakeholders in Tanzania have raised concerns over the need for players in the extractives industry (mining, oil and natural gas) to focus more on providing education to the communities around them. This is in addition to providing them with the 'usual' CSR benefits in the forms of charitable donations and funding utilities, healthcare, formal education – and more.
Stakeholders are concerned that a majority of the population –particularly women – lack fundamental education to qualify them for top leadership positions especially in the private sector, notably in the extractives sector.
"Extractives companies need to go to secondary schools to present their projects and concerns about environmental problems. And, while at it, they should identify young schoolgirls who exhibit special talents, and 'invest' in them to become good future prospects for the companies," said Mr Michelle Baldini, the director the European Business Group in Tanzania.
"The initiative will help to generate more female managers to work in the companies, which need to start this process a bit earlier – at the secondary school level, for example – instead of waiting for girls to apply for jobs after they graduate from Universities."
Mr Baldini said this during the 8th Annual Corporate Social Responsibility Forum on the participation of women in the extractive industries value-chain.
Held in Dar es Salaam recently, the gathering brought together representatives from the government and the private sector, including especially Civil Society Organisations (CSOs).
The Forum was organized by HakiRasilimali in partnership with the Canadian High Commission in Tanzania, the Tanzania Private Sector Foundation (TPSF), and Policy Forum.
Speaking at the event, the director of Investment Promotion at the Tanzania Investment Centre (TIC), Mr John Mnali, reassured stakeholders of the government's commitment to continue cooperating with them in seeking to transform the extractives sector.
Mr Baldini also called upon the extractives companies to foster special talents in Tanzanian schools who show interest in sectoral activities.
"For instance, Total Company might want to hire people to work in its Marketing Department. So, it could 'invest' in selected school girls who show interest in that specific area," he counselled.
The executive director of Salama Heritage Ecovillage Tanzania (SHE-T), Ms Rosemary Olive Mbone Enie, told the Forum that building the capacity of young Tanzanians – especially women – in the extractives sector is crucial. The general idea is that if, for instance, children start a Geological Education and Training course at an early stage, they develop more interest in those particular studies.
According to Ms Enie – who is the geologist by profession – there are less than 400 registered geologists in Tanzania, very, very few of whom are women.
"This is not good for a highly mineralized country like Tanzania," she lamented.
She nonetheless commended the extractives companies in the country for "effectively engaging in the CSR activities…"
She cited Acacia Mining's educational and health projects around its Shinyanga mines as having a positive impact in its CSR efforts.
The Union Parliament passed three laws on July 3-4, 2017 that made significant changes to Tanzania's legal and institutional frameworks governing oil, gas and mineral extraction.
The extractives industries are also required to produce annual CSR plans jointly agreed with the relative local government authority.
Last year, Prime Minister Kassim Majaliwa directed the mining companies to honour their CSR obligations as per the extant regulatory frameworks.
Noting that the 2017 Mining Act requires licensed mining companies to pay 0.07 per cent of their gross revenues as CSR to local councils in their areas of operations.
Before the new legislation became operational, some medium and big miners in the country had the discretion to decide on CSR issues.
Today, local government authorities are also statutorily required to prepare guidelines for CSR within their jurisdictions, as well as oversee their implementation, and educate the general public on CSR projects in their respective areas.
Section 27 of the Amended Act also grants authority to draft regulations relating to local content and CSR obligations.
Addressing the 8th Annual Corporate Social Responsibility Forum, the Canadian High Commissioner in Tanzania, Her Excellency Pamela O'Donnell, said "CSR is about behaving responsibly in all aspects of business, from minimizing environmental impact to good labour practices. Companies should contribute positively to the communities and countries in which they operate."
She also reiterated the Canadian government's commitment to promoting responsible business practices, and encouraged Canadian companies working in foreign lands to respect human rights and all applicable laws.
The Government of Canada understands that responsible corporate behaviour by Canadian companies active abroad not only enhances their chances for business success; they can also contribute to broad-based economic benefits for the countries in which they are active –and also for Canada, the High Commissioner reaffirmed.
"Gender equality, empowerment of women and girls – and the realization of their human rights – are core Canadian values central to Canada's foreign and domestic priorities. When women and girls live free of discrimination, they are able to realize their human rights, and become powerful agents for change" to boot, Ms O'Donnell stated.
Research has shown that, when more women work, economies grow. A 2015 global study found that $12 trillion could be added to the global GDP by 2025 by advancing women's equality.
Delivering her remarks at the Forum, Ms Nathalie Garon – First Secretary and Team Leader for Sustainable Economic Growth Project at the Canadian High Commission in Dar es Salaam – said "The development of SMEs is vital for improving participation of women in private sector value chains.
Capacity-building to enable women to obtain the necessary skills so as to thrive is equally important. In that regard, Canada extends support to Tanzania through the Improving Skills Training for Employment Programme (ISTEP).
Referring to the positive impacts of the project, Ms Garon revealed that the project aims at helping technical and vocational training institutions to deliver skills training that would enable students to find or create employment in the Tourism and Extractives sectors of the Economy.
"The (ISTEP) project encourages women to participate in non-traditional sectors of work, such as mining and heavy machinery operating. I, therefore, would encourage our private sector partners to connect with our development partners to implement these projects, as I see lots of common objectives and potential for partnerships," she said.
The extractives industry remains a male-dominated sub-sector of the Mining sector, compared to some other industries in Africa. It is, therefore, important to involve more women in it if only because women do have the same 'right to development' as men.
So, if the industry diminishes women's access to economic and social development, this human right for them is violated.