NEC suspends Chadema's Tundu Lissu from campaigning for 7 days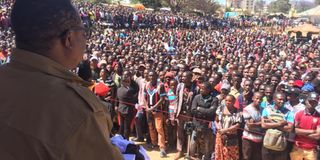 What you need to know:
The complaints were filed by two political parties, Chama Cha Mapinduzi (CCM) and NRA.

Dar es Salaam. The National Electoral Commission (NEC) Ethics Committee has suspended Chadema presidential candidate Tundu Lissu from campaigning for seven days following for allegedly contravening election rules during his campaign rallies.
The complaints were filed by two political parties, Chama Cha Mapinduzi (CCM) and NRA.
NEC's Ethics Committee Secretary Emmanuel Kavishe said in a statement today October 2, that the complainants had submitted complaints against Lissu claiming he had uttered seditious statements during one of his rallies.
According to the committee, Lissu while campaigning in Mara claimed that President John Magufuli had convened a meeting with returning officers countrywide in order to sabotage the upcoming elections.
He further said Lissu made seditious comments that aimed to humiliate the complainants contrary to the elections ethic. He said Lissu failed to provide evidence regarding his claims.
"The NEC ethics committee is satisfied that information on the violation of ethics submitted against Tundu Lissu is according to the procedure taking into consideration article 39 of the 1977 constitution of the United Republic of Tanzania where Lissu was sponsored by his party to be the Presidential Candidate, therefore, the letter of complaint delivered to NEC was correct," he said.
Recently NEC issued a letter to Mr Lissu calling him to show evidence against the complaints raised against him, however, during his campaigns Lisu said he had not seen the letter and on Thursday, October 1, the  IGP Simon Siro directed him to report to police Moshi.