Tanzania moves to accelerate fight against maternal, infant deaths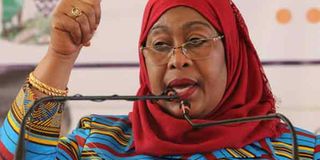 Summary
The government is set to launch a countrywide campaign aimed at reducing maternal and infant mortality in the country.

The Vice President Ms Samia Hassan is expected to grace the proposed campaign inauguration ceremony scheduled to be held in Dodoma on November 6, 2018.

Dar es Salaam. The government has embarked on a campaign to reduce maternal and infant mortality by effectively engaging the regional and local authorities in the battle.
Dubbed Jiongeze Tuwavushe Salama, the campaign aims at enhancing interventions across the country to reduce the burden.
The countrywide action is scheduled to be officially inaugurated on November 6, 2018 in, Dodoma and the Vice President Ms Samia Hassan will grace the event, the ministry of health senior specialist of Reproductive and Child Health Section (RCHS) Dr Phineas Sospeter said on Friday November 2, 2018.
Among other things, the ceremony will involve the signing of commitment agreements between the Vice President and the regional commissioners with a view of engaging them in the fight.
According to the Tanzania Demographic Health Survey and Malaria Indicator Survey 2015/16, infant mortality rate in Tanzania is at about 25 deaths per 1,000 live births, while maternal death is 556 per 100,000 among women aged 15-49.
This means, at least 11, 000 pregnant women die per year due to delivery complications.
The campaign aims to reduce maternal deaths from the current 556 to 292 per 100,000 women and infant mortality from the current 25 to 16 per 1,000 by 2020.
"Lack of access to health facilities, poverty, lack of education and poor provision of medical services in the public health bodies are key factors that drive maternal deaths," said Dr Sospeter during a one-day seminar to journalists.
"At least 15 per cent of pregnant women are at risk of developing health complications during pregnancy, and before or after delivery," he added.
Dr Sospeter further asserted that the campaign will also encourage stakeholders to join hands with the government in enhancing public awareness about reproductive health.
In addition, Dr Sospeter mentioned lack of accountability among hospitals managements, shortage of skilled medical personnel as the key factors attributed to maternal deaths.
In order to address the challenges, he called on the families and society members especially heads of households to effectively participate in the discussions on reproductive health so as to acquire knowledge on how to prevent further deaths among women and children.
"Local government authorities also need to improve infrastructures such as roads to facilitate various interventions like distribution of essential medicine and medical supplies in the health bodies," he said.
For his part, the ministry's health promotion coordinator Mr Said Makola  expressed optimism that launching of the proposed campaign would boost the long run government efforts to reduce the maternal deaths.
He further cited that the government was determined to continue improving both diagnostic and surgical services and availability of essential medicines and medical supplies in the public health bodies to ensure that the vulnerable Tanzanian women and children have access to quality health services.
"Local media reporting on maternal related deaths is also crucial for educating the public on how to prevent further maternal deaths," he said.