Tensions rise ahead of Ukuta protests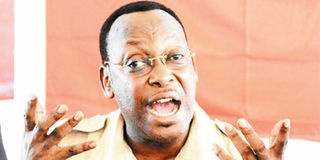 Summary
But Chadema has remained firm that it will stage pro-democracy demonstrations on that day come what may.

Dar es Salaam/Upcountry. Tensions are rising as September 1 is approaching and Chadema has vowed to galvanise supporters into a series of countrywide demonstrations while police have warned that they are outlawed.
But Chadema has remained firm that it will stage pro-democracy demonstrations on that day come what may.
Police and other state organs are flexing their muscles to ensure that no people will take to the streets on that day. Information by The Citizen from various regions indicates that the Police Force is prepared to quell trouble.
Most regional police commanders (RPCs) who spoke to The Citizen have indicated that they will not allow the demonstrations. However, speaking in Arusha yesterday, Chadema chairman Freeman Mbowe insisted that they will start demonstrating on September 1 not as a way of provoking police but pressing for their demands.
He said they already formed five national committees to coordinate the demonstrations and groups of national leaders will work in various zones.
"We will stage these demonstrations not because we love protesting but because we want to defend the constitution," he told Chadema leaders of the Northern Zone.
He said they were going to ask their colleagues in the Coalition of Defenders of the Constitution (Ukawa) — CUF, NCCR-Mageuzi and NLD — to support them in the Ukuta initiative, which Chadema says is aimed fighting a dictatorship. But several regional commissioners have warned the public against protesting, saying that was unlawful and would be met with the full force of the law.
Arusha Regional Police Commander Charles Mkumbo said his office was not informed of the September 1 demonstrations by any party.
"If Chadema or any other party wants to demonstrate on that day it should follow procedures. So far we have not received any information on the demonstrations. But we are ready to deal with anyone who will break the law," he said. "If people take to the streets that day without informing us they will be considered criminals and we will deal with them accordingly."
Morogoro acting RPC Leonce Rwegasira has warned people against taking part in unauthorised demonstrations.
He vowed to keep the region peaceful on September 1 and will continue ensuring Chadema supporters do not demonstrate without following procedures.
Police officers have been conducting drills and Commander Rwegasira said they were normal exercises.
In Kilimanjaro Region, Chadema has formed a team to organise demonstrations.
The Chadema secretary for in the Northern Zone, Mr Amani Golugwa, was quoted recently as saying Moshi Urban MP Jafarry Michael and mayor Raymond Mboya would be team members basing on their positions. He named the team chairman as Mr Abraham Kwayu and Mr Adam Mtwenge as secretary.
Other members are Asha Mchomvu, Vincent Mboya, Africana Mlay, Ramso Soka and Lina Mtowe.
But Mr Golugwa's announcement prompted Kilimanjaro Regional Commissioner Said Mecky Sadiki to issue a statement warning people to stay away from the planned march.
He said being the chairman of the Regional Peace and Security Committee, he had ordered all district chairmen of such committees to ensure that no demonstration takes place on September 1.
"People should take note that those who demonstrate on that day will be arrested and charged because they will be doing so illegally."
His Morogoro counterpart Kebwe Steven Kebwe has warned youth against demonstrating on September 1.
Instead, he urged them to engage in income-generating activities to increase their incomes. Dr Kebwe made the statement at a meeting of religious leaders who prayed for the country's peace at Jamhuri Stadium here. During their inter-religious meeting, the leaders stressed peace.
Mara Regional Police Commander Ramadhan Ng'anzi has insisted that no political party will be allowed to conduct any protests on September 1 because the Commander-in-Chief, President John Magufuli, has termed demonstrations as unlawful .
"Moreover, we have not received any request for demonstrations," he said.
Coast Regional Police Commander Bonaventura Mushongi said they have received two letters asking for permission to conduct rallies on September 1 but insisted that they would not be allowed.
He said only internal political meetings are allowed.
Reported by Mussa Juma (Arusha), Lilian Lucas and Patrick Kisembo (Morogoro), Happiness Tesha (Moshi), Beldina Nyakeke (Musoma) and Julieth Ngarabali (Kibaha).