Africa risks fading from knowledge economy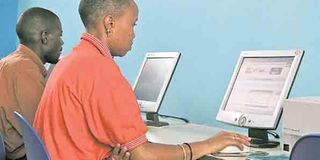 What you need to know:
Africa has traditionally been left out of what is called the knowledge economy. Whether it is the number of books published per capita or patents issued per country, most African countries tend to come at the bottom of the list.

Internet access is not enough to transform economies in Sub-Saharan Africa, write Sanna Ojanperä and Mark Graham.
Africa has traditionally been left out of what is called the knowledge economy. Whether it is the number of books published per capita or patents issued per country, most African countries tend to come at the bottom of the list.
But the world is changing. In 2017, over half the world's population will have access to the internet — a gateway to what Wikipedia founder Jimmy Wales refers to as the sum of all human knowledge.
"Academic articles are spread slightly more evenly across the continents, while digitally-mediated knowledge production is more concentrated in developed countries."
The rapid growth of internet use on the continent has sparked hopes for the democratisation of knowledge production. Rwanda's president, Paul Kagame, has expressed these hopes by saying: "In Africa, we have missed both the agricultural and industrial revolutions and in Rwanda we are determined to take full advantage of the digital revolution." Is the excitement warranted?
For several years we worked with colleagues at the University of Oxford to examine some of these claims.
It makes sense that countries such as the United Kingdom or the United States, which have huge resources to invest in tertiary education, would be able to produce a lot of academic articles — a measure of 'traditional' knowledge production.
By the same logic, shouldn't the newly democratised access to the internet now mean that places such as Nigeria or Kenya can better compete in those measures of the digital knowledge economy?
We tested this by comparing academic articles with two 'modern', digital measures of knowledge production: the uploading of computer code onto the world's largest repository (GitHub), and the registering of domain names (such as .com or .za).
What we expected to find is that academic articles are heavily concentrated in the global North, while collaborative coding and domain registrations are distributed more evenly. Not so: it turns out that the global and regional patterns of digital knowledge production are actually more uneven than those of academic articles.
Sub-Saharan Africa is the continent that contributes the least to all three categories. Its share of academic articles is only 1.1 per cent. With 0.5 per cent of collaborative coding and 0.7 per cent of domain registrations, the region produces an even smaller share of digital knowledge.
Here's a telling statistic: France produces 3.2 times more academic articles, 5.7 times more collaborative coding and 3.4 times more domain registrations than all Sub-Saharan African countries together.
Connectivity is not enough
Our results also suggest that the factors often framed as catalysts in Africa's transformation do not have the same influence across measures of the knowledge economy.
Take connectivity: while it plays a role in all three categories, it seems to have a strong effect only on digital content creation. On the other hand, the production of academic articles is more strongly related to a country's gross domestic product (GDP) than to connectivity. Innovation capacity appears to have a positive relationship to all three content types. And education looks related only to the variation in academic articles.
In other words, while connectivity is important for creating digitally mediated knowledge, merely increasing connectivity might not allow African countries to leapfrog to higher levels of digital engagement. Wealth, innovation capacity and public spending on education matter as well.
This matters because governments, donors and others are directing enormous public and private resources to increasing connectivity and supporting digital development initiatives in Africa. Our findings suggest a need to take a critical look at their investments.
A total shift into industries based on technology and human capital may not be on the immediate horizon — economies in Sub-Saharan Africa continue to rely heavily on extractive industries and agriculture. But knowledge-based economic practices are emerging: innovation hubs, labs and research and development centres are appearing across the continent, while local entrepreneurial initiatives use technology at the grassroots.
Going further than this, towards a transformation into knowledge economies, will need far more concentrated effort than simply increasing internet connectivity. One barrier highlighted by our findings is the short supply of locally produced knowledge.
Without investing to shift the trends shown in our research, Sub-Saharan Africa is facing a worryingly diminishing role in the world's digital knowledge economy.
Sanna Ojanperä is a researcher and Mark Graham professor, both at the Oxford Internet Institute, University of Oxford. Ojanperä can be contacted at sa[email protected] and Graham at [email protected]