Why access to water should come first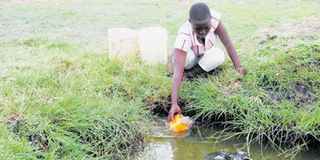 What you need to know:
However, the report also shows that without urgently improving how we manage water, this growth will be difficult to sustain.
Last November, World Bank released the Tanzania Economic Update. The document shows that the country has the fastest growing economy in the region.
However, the report also shows that without urgently improving how we manage water, this growth will be difficult to sustain.
The growing population has increased the demand on finite water resources, resulting in Tanzania becoming one of the world's water stressed countries.
Data from the Ministry of Water and Irrigation shows that 53.1 per cent of people in rural areas have access to water, while the average coverage of urban water supply is 78 per cent. While Tanzania has made progress over the past 15 years through the Water Sector Development Programme (WSDP), particularly in urban areas, the rate at which the population has grown has meant there are millions without access to clean water.
The World Health Organisation/Unicef Joint Monitoring Programme (JMP) similarly reports that 37 per cent of Tanzanians rely on unsafe sources of water, increasing the risk of deadly water-related diseases, such as cholera and diarrhoea. In 2011, Unicef stated that around 70 per cent of health sector expenditure is being utilised to treat water related diseases, costing more than $500 million. This is money that could be invested elsewhere to keep the economy growing.
The Tanzanian government has made several commitments to achieve universal access to water, which is outlined in the National Development Vision 2025 and the Sustainable Development Goals 2030. By improving access to water, we will also be able to reach the targets of our other national goals. Water is not just water, but also fundamental to our health, education, economy and gender equality.
So what are some of the challenges that are slowing down progress? Some of the key factors include financing, sustainability and climate change. In terms of financing, we need to look for alternative ways to finance water services, in order to support the government to reach everyone, everywhere.
At WaterAid Tanzania, we feel that the participation of the private sector is vital. Where utility companies are struggling to achieve coverage, they can sub-contract to private firms. Additionally, financial institutions can loan money to utilities allowing them to increase their services.
In order for this to happen, we need to strengthen systems in order for utilities to operate as financially viable institutions. Sustainability remains a key issue in the sector, with data from the Ministry of Water and Irrigation showing that 35 per cent of water points in rural areas are not functioning. We need to ensure we implement cost-effective technologies so communities are able to afford to maintain their systems. Similarly, we need to have financial accountability to ensure that money collected from water is used for maintenance of the water schemes.
Additionally, natural disasters, such as flooding, comprises infrastructure and water quality. The water sector must work to build climate resilient communities, ensuring that during extreme weather events, the most vulnerable still have access to clean water.
In order to combat some of these challenges, at WaterAid, we have been piloting innovative technologies, such as solar powered boreholes, which are cheaper to maintain and use clean energy, improving sustainability.
In addition, we are using electronic water payment systems, which increases revenue as they provide an accountable and transparent way for communities to pay for water. Our collaboration with government, private sector, academic institutions and development partners shows that partnership is key to reaching everyone, everywhere with water by 2030.
Tanzania has made great progress in growing the economy, and is now industrialising. To continue this growth we need to start ensuring that water is placed firmly at the centre of development, and stays there.
Ibrahim Kabole is WaterAid country director in Tanzania