Tanzania gets hold of global film platforms, but sluggishly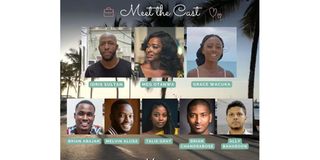 Summary
Despite great access to global audience potential, Tanzanian films are yet to come of age to grasp such a market
Last weekend, posters for a Netflix upcoming film 'Married to Work', a romantic comedy set in the picturesque tropical island of Zanzibar featuring actors and actresses from Tanzania, Kenya and Nigeria surfaced the internet.
They became another notable addition to a growing number of African films that have struck a chord on streaming platforms like Netflix and Showmax. With film lovers and other stakeholders raising questions as to when the Bongo film industry will pick up the pace to grasp global platform such as Netflix.
Despite great access to global audience potential Tanzanian films are yet to come of age to grasp such a market. Still on the fringes of the great film producing and viewing areas of Netflix, showmax and other international platforms, falling short to Nigera, Kenya and South Africa's film industry.
Some says Tanzanians are yet to develop a film-consciousness as producers or consumers.
"The truth of the matter is there are not enough Tanzanians subscribing to Netflix. If the numbers grew in that respect, Netflix would be motivated to produce more films in our beautiful country," explains Angela Ruhinda, a co-founder with Alinda of Black Unicorn Studios and screenwriter for the 'Married to Work' film.
Ms Ruhinda adds that our neighbours, Kenya are the bigger market and that is why they have been getting so many opportunities with the streamer over the past couple of years.
She says, "It is not lost on me that paying for a streaming service is a luxury for a lot of Tanzanians. However, if we could push the ones who can afford the luxury to subscribe and watch local content, it would be a game changer for our film industry."
Nadira Shakur, an American film producer based in Nairobi Kenya, is optimistic about Tanzania's film pace and East African film industry in general but asserts that more work still needs to be done.
She shares with the Beat that, "The East African film industry is definitely growing however there is still a long road ahead. There is a need for training at all levels.
There is a need for better understanding of how the industry works. If the local industries can create unity and partnerships amongst themselves to allow for information sharing and resource sharing, then I believe it will grow to its potential," says Nadira.
Last year, Tanzania saw three of its films being streamed on Netflix, marking a great start into the international market. These includes Binti, which became the first Swahili movie streamed on Netflix on January 7, 2022.
A story about four Tanzanian women, Tumaini, Angel, Stella and Rose - who are unknowingly connected through their ability to persevere life's hardships into a womanhood.
Then Bahasha, a film centred around ex-footballer 'Kitasa'. Latest was on October 14, a Swahili film known as Nyara: The Kidnapping (2020) joined the course.
"Currently, there are films from both Kenya and Tanzania streaming on Netflix. East Africa should look towards Nigeria and South Africa as examples as their film industries are more advanced. These industries worked hard to grow their local audiences first by building cinemas and self-funding their films before looking globally," adds Nadira
Outside Africa, audiences and streaming services generally spurn the thousands of films made in Africa each year. But that could change.
The two film cinephile see a lot of potential for East African film industry.
Shares that, "We have the talent in front of the camera and now we are slowly starting to understand production value as well. However, I think we need to master the art of storytelling. Every good movie begins with a good script. I believe if we started honing our writing skills, our productions will stand out a lot more,
'Married To Work' is a Pan African romantic comedy about an ambitious Kenyan woman, who is forced to pretend to be married to her cantankerous Tanzanian boss in order to save his company from bankruptcy.
The actors are from Tanzania, Kenya and Nigeria. Including the male lead played by Idris Sultan and the female lead played by Grace Wacuka, prominent Nigerian actress, Meg Otanwa, is also features in the film.
There are also two Tanzanian actors from Black Unicorn Studios, Talie Gray and Ally Baharoon, who have smaller roles in the film.
The Pan-African romcom, 'Married to Work' is written by Binti producer Angela Ruhinda.
Speaking about her experience, Ms Ruhinda shares that, "It was quite a whirlwind! I had less than a month to write the entire screenplay. I focused solely on the script that October and got notes from the producer at the end of every week,"
The project started two years ago, shot the film in three locations, Nairobi, Dar es Salaam and Zanzibar. For her part Ms Shakur says she enjoyed exploring the country as not only did the project involves actors and crew from Tanzania, but also worked with local businesses and musicians from the area.
"Idris Sultan was extremely professional and fun on set. Siti and the Band who brought such a special Zanzibari vibe to the film. Mohammed Haji, a local drone operator, helped us capture the beautiful scenery of Zanzibar. Then the wonderful hotel owners who let us film on location. We were humbled by their understanding of what we were all trying to achieve," She explains
When it comes to screenwriters, Angela Ruhinda is one of her favourite African screenwriters.
"So, I jumped at the chance to work with her. I met her from her work on Binti and I could sense that she would be able to capture the right tone as we were going for a romantic comedy and not many writers on the continent are familiar with the genre," says the film producer
For her part, Ms RUhinda shares, "I jumped at the chance! I love romantic comedies,"
She details that when Nadira Shakur, the producer of the film and co-founder of Okada Media approached her in 2021 with an idea for a romantic comedy starring Idris Sultan. "I was thrilled! I've been looking for an opportunity to write or produce one in East Africa for a while now. This felt like the perfect way to get started in that lane,"
"I really enjoyed the process and coming up with fun scenarios for these special characters," she adds.