Busara still struggling despite potential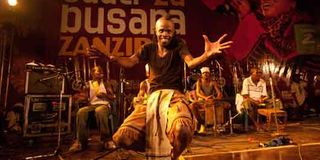 Summary
Even with this great pedigree the festival continues to suffer from inadequate funding that has seen them operate with a shoe-string budget and at one point organisers were forced to call it off.
Dar es Salaam. Sauti za Busara is one of the greatest festivals that has graced the African continent since the turn of the millennium as it celebrates Africa's diverse cultures.
Even with this great pedigree the festival continues to suffer from inadequate funding that has seen them operate with a shoe-string budget and at one point organisers were forced to call it off.
Available statistics show that each year visitors to the festival inject more than $7.2m into the local economy with the festival dates becoming a high tourist season.
Last weekend, however, there was a ray of hope after the Norwegian embassy committed to continue helping the festival reach its objectives by extending $122,000 (Sh268.4 million) towards the organisation behind the festival.
Speaking to the Beat about the relevancy of this funding, Busara Promotions CEO Yusuf Mahmoud said it was a timely intervention coming from the embassy that has provided core funding for their activities since 2009.
"This greatly helped us promote Tanzanian and East African music worldwide, whilst offering training and capacity-building for music industry professionals, strengthening networking and partnerships and developing the organisation's strategic planning, administrative, reporting, budgeting, financial policies and procedures, says Yusuf.
This should have sounded as a sigh of relief to the organisation, yet on the contrary the festival is still struggling to sustain itself financially.
"Busara's funding crisis is far from over! In fact, there is still a huge gap to fill before guaranteeing the 2018 festival goes ahead as planned. To organise a world-class festival that lasts four days, with 46 live performances by musicians from all over Africa requires serious investment," he says. He adds: Almost all artistes from outside the region have to find their own travel to Zanzibar, which greatly helps reduce costs.
However, he insists that each year they have to rebuild technical infrastructure for the event almost from scratch, including three stages, sound and lighting, stable power supply, water and backstage facilities, first aid, fire and other emergency services, marketing and promotion.
"When you add artistes' fees, visa, travel and accommodation for 400 artists, salaries for 200 crew members, security, and a whole bevy of government taxes, licenses and permits, then you begin to get a picture of how much is required to produce an event of this magnitude and scope."
Festivals of the same size elsewhere cost more than $2 million, yet Busara has been surviving on some $300,000; a fact that visiting producers find hard to believe.
"We continually ask ourselves why there is still the need to struggle for funds after 14 successful years. If one looks at other similar-sized festivals happening around Africa, their annual event budget is usually somewhere between $2m and $8m, with significant financial support from the public and private sectors."
Several options are available to the organisation to raise funds and top of these as suggested by many is to increase ticket prices, something that Yusuf says would beat the very purpose of the festival.
"This would automatically exclude many Tanzanians from being able to attend. Busara is not motivated to produce a festival only for tourists. Critical to its success is the fact that the event is a shared experience for visitors and locals. Keeping Sauti za Busara accessible for the people who live here is our priority," he says. During the festival access passes are priced at $120 for international visitors, $60 for African passport holders and Sh20,000 for Tanzanians for the four-day event.
The income generated from tickets sales covers only 30 per cent of the costs, leaving organisers with the challenge of finding donors, partners and sponsors to fill the gap. "The main reason Sauti za Busara continues to struggle to stay alive is due to the absence of financial support from the government, airlines, hotels and tourism industry, who are the main financial beneficiaries of the event," he says.
According to him Busara needs to find a way through which a small percentage of tourism taxes paid to the government, or a fair commission on hotels and flight bookings to Zanzibar during the festival can reliably be paid to the festival, for it to be self-sustaining.
"Financial support for the festival from the government is yet to be seen, however, there are many individuals working in government who continue to support, assisting on issues such as policing, security and immigration. Zanzibar's Commission for Tourism also distributes postcards to promote the festival at international tourism and trade fairs," says Yusuf.
These events could paint a very uncertain future but Busara is not considering a relocation as some have suggested in the past. This would see the festival leave its home at the Ngome Kongwe in Stone Town.
"That is not a favourable option because the unique venue of Ngome Kongwe in Stone Town is an important part of the festival's identity," he says. According to him in February Sauti za Busara is looking forward to celebrate Africa's rich, unique and diverse musical traditions.
The festival will kick off at Kisonge, Michenzani with a carnival parade, led by Haba na Haba contemporary dancers from Dar es Salaam.
"Then on three stages over four days the festival will feature 46 performances, all 100 per cent live. Our website already includes the 2018 line-up, with artistes' profiles and video clips, including twenty groups from Tanzania and more from South Africa, Zimbabwe, RDC, Nigeria, Algeria, Morocco, Kenya, Rwanda, Burundi, Malawi, Egypt, Sudan, The Gambia, Reunion, Denmark and Switzerland.
Music groups that are bound to excite local audiences include Zakes Bantwini from South Africa, Afrikan Boy from Nigeria and UK, Ribab Fusion from Morocco, El Dey from Algeria, Alsarah & the Nubatones from Sudan/USA and Kasai Allstars from DRC.
Also on the list are Kidum & the Boda Boda Band from Kenya, Mlimani Park Orchestra from Tanzania, Mohamed Ilyas & Nyota Zameremeta from Zanzibar, Makadem from Kenya, Inganzo Ngari from Rwanda and Jally Kebba Susso from Gambia.