Cherry: From a church choir singer to upcoming pop artist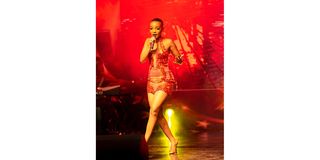 Summary
Cherry is a new artiste ready to explore the music industry and what it has to offer
One of the challenges upcoming artists who take part in music competitions face is making an official entry into the actual music industry. It often feels surreal since these two are one but different arenas. These competitions, such as Bongo Star Search (BSS), which offer aspiring musicians a platform to showcase their talents, seldom give artists the real image of the music industry and all the things it comes with, both the good and the bad.
Neema Swai, aka Cherry, is one of the upcoming artists who has had a taste of both BSS and the music industry. She has taken part in this competition twice and recently made headlines with her debut song, "Ole," that was released on March 3, this year.
Her musical journey began at the early age of five, when Cherry began to frequently attend church with her grandmother. She was at the time not part of the church choir, but she sang with them whenever her grandmother attended these choirs.
She then began leading school choirs based on the experience she learned from church, and this went on up to the time Cherry joined The Hubert Kairuki Memorial University to pursue nursery and midwifery.
One day, as she was singing while washing dishes outside her house, Cherry's neighbor named Rachel heard her, and she advised Cherry to consider auditioning for BSS.
"Rachel was staying in one of the teachers' quarters, where I also lived with my mother, and she had heard me sing several times. When she first approached me, Rachel convinced me to go test the waters. The auditions were conducted on the same day. I hesitated since, from my understanding, my talent had to be well-seasoned to be one of BSS's talents, but Rachel's persuasion won," she narrates.
On the way to the venue, Cherry's mind was overthinking and buzzing with self-doubt since she had not only never competed with other people, but she had also never been criticized for her voice. She was afraid that the competition judges held the power to either tear her apart by describing her talent according to the way they perceived her voice on the stage or encourage her by choosing her as one of the new talents.
Rachel escorted her to the auditions and waited as Cherry got into the competition venue.
"I sang Ruby's Nitadeka because I was familiar with her songs, and I felt like her voice on her projects complimented mine. I was accepted on the first two playoff teams, and I ended up in the top 20," she recalls.
In 2020, Cherry auditioned for BSS for the second time, and her voice saw her rise up the ranks to the top 10.
At the time, her family was going through financial challenges, and they could not cover her university tuition fees, which made Cherry drop out. She began to stay at home to assist her mother in selling homemade peanuts.
She then came across an Instagram post that was shared on famous Bongo Flava artistes Barnaba and Nandy's walls that detailed the Tanzania House of Talents (THT) search for new talents to join the talent force. She attended the audition and joined the group of upcoming talents whose voices began getting trained to match the quality THT wanted.
"This was the first time I was taken through a training that unveiled breathing exercises while singing, stage performances, discipline, and a music lifestyle. After months of training, I started getting picked to perform at events at the State House and marathons. In 2022, BSS announced that they needed artists who had participated in the competition to feature in an all-star edition. They called me, and I accepted to take part in the competition; this time I made it to the top seven," Cherry reveals.
At the time, she was working with a record label called Bxtra Records, which had already signed her before the competition.
The "Ole" singer made her debut song in reflection of a young girl whose mind is relaxed in such a manner that she does not allow friendship pressure or heartbreaks to get to her.
"We live in a chaotic city. A city in which young people have befriended heartbreaks and disappointments in order to survive. My song is about a young person who has chosen to focus on her work, peace of mind, and wellbeing to survive these challenges," she explains.
Like other artists, Cherry has faced a couple of challenges like financial restraints and sexual harassment posed by people that were meant to support her in her line of work.
"Music is nothing without challenges, especially for female artists. Before the label, I had incidents where important players, such as producers, proposed to sleep with me or date me before they gave me projects to work on. I refused their advances, but this made me look at the industry in its totality with a whole different eye. Nothing could have prepared me for that; if anything, such challenges made me prioritise my dignity before anything else," she says.
Among the music legends in the country that Cherry looks up to and wishes to one day work with is Lady Jaydee.
"She is one of the few legends whose legacies are evident. Her commitment and hard work have seen her through generations. She also makes the kind of music that is authentic to herself," she explains.