One woman's long journey to endometriosis diagnosis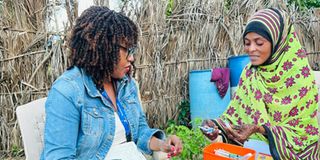 What you need to know:
According to health experts, it takes on average ten years to get a diagnosis of endometriosis from the time one starts noticing symptoms.
For over a decade, Sada Jinyevu, 35, a resident of Mkinga village in Tanga Region, endured severe menstrual pain before she was diagnosed with endometriosis in 2020.
Her life has been a living hell since 2009, when she started experiencing stomach pains.
Throughout the years, Sada has experienced debilitating pain during her periods that, at times, prevents her from going out of the house for some days.
Apart from having abnormally heavy flow days, Sada, whose period lasts for five days, also bleeds rectally for three days.
"Rectal bleeding causes me crippling pain," she says.
She is usually unable to eat or drink anything during her menses but survives on intravenous (IV) drips and tramadol hydrochloride injections for pain relief.
Sada had to learn to inject herself and hang the IV drip to avoid always having to go to the hospital.
"I inject myself in the thigh up to three times a day, depending on the level of the pain. I have sold everything in my house, including my clothes, so I can afford medication," she tells me as she finishes injecting herself.
One injection costs Sh2,000, and the three years of daily injections have not only been a burden to her but also to her family, who have been supporting her all these years.
When you have endometriosis, the tissue that lines the inside of your uterus starts growing outside your uterus.
It may end up on your fallopian tubes, ovaries, bladder, vagina, and sometimes even on your rectum, intestines, and appendix.
When that endometrial tissue is inside your uterus where it's supposed to be, it thickens and sheds once a month when you menstruate and exits through your vagina.
But if you have endometriosis, there is no exit for that tissue. Some people with endometriosis also have issues getting pregnant.
According to experts, it takes on average ten years to get a diagnosis from the time you start noticing symptoms.
"I always feel like I am at war every month, and I don't see an end in sight. The condition just stops me from living," she shares.
Sada says she has been at war since 2009, when she started having severe, painful periods.
Her relatives and close friends brought her different concoctions but none worked.
"My sister was once directed by herbalist to make broth using the herbs he had given her and bones from any animal she could find at a dump site. I unknowingly drank the concoction, but it was of no use. I've also undergone several medical procedures, none of which have been successful."
Long, painful road to diagnosis
Sada had been in and out of hospitals and saw many doctors, but none could tell what was wrong with her.
"I wailed through all my treatments in different hospitals in Tanga, but my pain didn't subside. The pain worsens as my monthly period approaches. I can't sleep, sit, stand, or eat anything for four days. I also goes for days without pooping."
She recalls a procedure she underwent that was meant to cleanse her uterus, as she puts it.
She says the procedure is usually done for evacuating incomplete miscarriage or in cases of prolonged use of contraceptives. "After the procedure, everything changed. My pain got worse; I had no bowel movements, and I was in pain even if I wasn't menstruating."
In 2015, after unsuccessful hospital visits in Tanga, Sada's relatives relocated her to Dar es Salaam for further treatment.
After a round of tests at a hospital in the city, she was told that she needed immediate surgery.
"The surgery did not take the pain away. I was unconscious for four days and when I regained consciousness, I was in so much pain that I thought I was going to lose my mind. I lost all hope," she sadly recalls.
It was after this surgery that she started experiencing rectal bleeding, accompanied by severe pain.
She was referred to another hospital in Tanga, where tests showed she had a tumor in her right fallopian tube.
"My relatives, who have been supporting me financially, have now given up. The condition has forced me to close my mobile money shop because I am usually in pain for most of the month."
"I've struggled to find a cure; I'm exhausted from the pain and not being able to conceive," says Sada as she gets up for a second injection when the pain becomes unbearable.
"One injection costs Sh2,000, and I need two to three daily. I need these injections to live. I would rather not eat but get the injections," she tells me.
At one point, she was given pills to stop her menstruation, which worked! The pain went away, and life was bearable. However, she went back to square one once she completed the dosage.
"When I took the pills, I could use the toilet as usual, eat food, and there was no blood. In short, I lived happily and without any pain."
During one of her monthly visits, the doctor told her that she needed to have her uterus removed for a permanent cure for her condition.
Sada was ready for the procedure because she wanted to start living a normal life again.
However, her parents thought a hysterectomy was not the best option. "My daughter's problems are mine; I can't abandon her. I only desire that she gets the right treatment. I doubt if the procedure will solve the problem," says Sada's father, Omari Jinyevu.
He calls upon Tanzanians to help save his daughter's life.
Despite having been unable to conceive, Sada has not given up hope of finding a cure. Sada cannot have sexual intercourse because of her pain and is grateful that her husband has been very understanding.
Dr Joseph Mberesero of Safi Medics Hospital in Tanga is the one who made Sada's diagnosis.
A seasoned gynecologist and obstetrician, Dr Mberesero, describes Sada's fourth-stage endometriosis as the most serious of all.
Specialising in women with similar late-stage conditions, Dr Mberesero cites Sada as an example of the consequences of delayed diagnosis and treatment for women with endo.
"In the fourth stage, endometriosis will have spread to all reproductive tracts, and sometimes outside the reproductive system. It may have spread to areas such as the head, chest, and hands, causing bleeding from these areas during menstruation," the doctor says.
He says patients receive treatment for various diseases, depending on the doctors' knowledge, which he says is very limited when it comes to endometriosis.
He suggests consulting the experts when experiencing severe pain during menstruation, saying the longer one waits, the more severe the effects because endometriosis damages one's reproductive organs.
The doctor says Sada's endometriosis has spread to the rectum, so surgery will require a gastroenterologist to remove the lesions that have grown in the intestine.
"My main priority as an obstetrician will be to see if I can restore Sada's reproductive organs so she can have a child in the future. Otherwise, I have to save her life via a hysterectomy," he concludes.
Supported by Bill & Melinda Gates Foundation