How Jazyline became one of the hottest Djs in town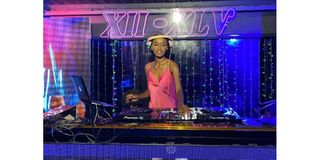 Summary
The rising star and talented disc jockey shares the inspiration behind her promising career in entertainment
Dar es Salaam. Parents hold the power to breathe life into a talent or skill through their children, either directly or indirectly. An evident case is Jazyline Gerald, a DJ and runway model whose career began as a result of her father renting out musical instruments to choirs and musicians.
 When she came of age, Jazyline's father began to teach her how to play some of the instruments with the intent of keeping them from warping during the time they were not rented. Little did he know that he was laying the groundwork for what would become Jazyline's career.
"My father was no musician; however, he loved music, and it was contagious to the whole family. This turned him into a collector of musical instruments, which he rented out from time to time. When he noticed that some of the instruments were becoming rusty due to dust and not being played for a long time, he told me to randomly play them to keep them 'alive'," she tells The Beat.
Over time, Jazyline learned that she loved playing these musical instruments and that it was easy to get lost while playing them. It became some sort of meditation for her.
This led her to join the teenage section in church as one of the musicians' instruments.
"My church attracts different kinds of people with different backgrounds. Due to that, we have different schedules to complement these differences, such as religious parties and teenage choirs. One of these sections was teenage religious parties, in which I was the leader and musical instrument player. Through this role, I gained attention from other people, who later began to pay me to play at their weddings and other religious celebrations," Jazyline details.
Some family and church friends began sending feedback on her performance to Jazyline's father, and he was not surprised by the extent to which her daughter got.
"My mother asked me if I felt happy doing this when she noticed my consistency, and my answer made her even more supportive," she details.
As her skills were practically sharpened during the time she was DJ-ing at weddings and in church, Jazyline joined a musical academy called Itch for two months, located in the Sinza suburbs of Dar es Salaam.
"My understanding of music was, at the time, informal and self-taught. With the help of music teachers, I was able to get a different view of the things I did not know. The new knowledge helped me get different skills that I did not have before joining the school," she says.
After her practical schooling came to an end, Jazyline got back to her playground. She was an expert in gospel until one day, one of the weddings she was playing at had guests who wanted a different kind of music taste.
"I remember that day like it was yesterday because it was the day that turned me into a DJ who plays all kinds of genres. I had multiple gospel playlists prepared, and everything was going perfectly until the time hit midnight, and I was left with adults who wanted other kinds of genres, especially Afrobeat and pop music," she recalls.
Jazyline further says, "I had to take music requests from the guests to make them enjoy the night because they no longer wanted gospel. While these other genres were new, they also made me curious to learn them so that I do not find myself in such a peculiar situation again."
Before she chose to officially pursue becoming a DJ, Jazyline wanted to become an air hostess. However, this dream was cut short when it was found out that she had asthma during her registration at the ATCL Training Institute.
"I had applied for cabin crew training, and during registration, despite the fact that I fit every criterion to become an air hostess, it was not ideal for my health because I have asthma, which is a lifelong disease," she details.
This made her turn the wheels toward DJing full-time because she began to see it as more than a hobby. In 2018, she began working with different nightclubs. She began at Elements for a year before relocating to the Beach House in Zanzibar, which is now closed.
"Around mid-2019, I came back to Dar es Salaam and got back to Elements for a few months, and in early 2020, I became an independent DJ where I simultaneously played at different spots and radios such as the Base and Maison, Efm, and EATV. It was such a great experience to see how far I had come. There's no better feeling than living your dream!" she says.
While exploring her profession as a DJ, there were external forces that influenced Jazyline to make an entrance into the modeling industry.
"I met people at events and clubs who, at first sight, commented that I would make a great model due to the way I present myself as well as my height (6'2 feet). My first time walking the runway was at Swahili Fashion Week 2019, and I felt nervous. I had to focus on the fact that my walking on that stage affected the spectators' perception of the outfits I was wearing, and this made me put on a show that turned heads and helped me to leave a mark on that stage," she recalls.
This saw her get calls to model for different runway shows, such as Swahili Fashion Week 2020 and Lady in Red 2020 and 2021. A year later, she became the headline DJ for both fashion shows.
"It felt incredible to blend both of my professions, and while I did not want to be a jack of all trades, I had to be creative and intentional so that I would succeed in both of them," she says.
As one of the few female DJs in the country, DJ Jazy plans to set an example for upcoming and aspiring DJs who are yet to experience the profession.
"Being in the entertainment industry is more challenging, especially for young women who desire to become DJs. With my own experiences from which I have drawn lessons that help to guide me to stand on my guard as I achieve my goals, I aim to connect with these aspiring DJs in a manner that they can believe that their dreams are valid despite different external sources that may change their perspectives on this," she explains.