Interest the youth in agriculture to tackle urban unemployment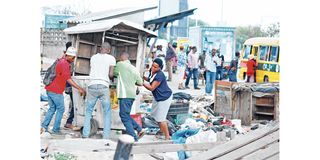 Summary
Promoting market-led agriculture would not only increase farmer incomes but it would also increase its appeal to the youth
A front page headline in one of the leading English dailies in the country read as follows: "Samia out to resettle youth on farms,"  whereby it was pointed out that President Samia Suluhu Hassan was planning to widen youth access to land ownership to promote their engagement in agriculture.
The President is quoted as having emphasised that the future of agriculture would be uncertain without the active participation of the youth. Agriculture is one of the main economic sectors in Tanzania, accounting for around 30 percent of the country's GDP. At the same time, it is noted that young people between 15 and 35 years of age currently account for 55 percent of Africa's labour force.
Every year, roughly 11 million young Africans enter the labour force, but at best, only a quarter of these new workers will find paying jobs over the next decade. So, governments are challenged to attract the youth to agriculture, in part, to tackle unemployment but also to realise agriculture's potential in economic development and food security, especially with increased urbanisation.
Historically, both colonial and post-colonial governments had seen agriculture as the "employer of last resort," which, among other things, could ensure the survival of the growing populations. Unemployed urban youths were exhorted to stay in rural areas, or move from urban areas and go to the rural areas, to engage in agriculture were work was plentiful.
In the 1970s and 1980s, the government in Tanzania would round up those considered unemployed in urban areas and repatriate them to the countryside.
Around the city of Dar es Salaam, villages like Gezaulole, Kibugumo and Mwanamilato were identified to receive the unemployed evicted from urban areas for engagement in agriculture.
The Human Resources Deployment Act of 1983, also known as Nguvu Kazi, was passed, empowering the government to look into and find a solution to urban unemployment. It was also empowered to make proper arrangements for the repatriation (to rural areas) and subsequent engagement in agriculture of the unemployed urban residents.
All urban workers were to be registered and carry labour or Nguvu Kazi identification cards. Anyone without these could be rounded up and repatriated to the rural areas.
These measures, however, did not stop the youth from moving to urban areas, where even today they are mainly engaged in the "informal sector." President Samia is not taking that route.
Instead, a number of youth, both men and women, are being recruited and will be allocated 10 acres each for commercial farming. This land will eventually be fully vested in them in terms of ownership after several years of utilization.
The youth will undergo a three-month training programme. A youth guarantee scheme and loan facility under the Agricultural Inputs Trust Fund will be established to support young farmers with constant credit services.
There are many experts offering ideas as to how the youth could be attracted to agriculture and how agriculture could tackle the problem of poverty. Experts agree that a strong involvement of Africa's youth in rural development, agriculture, and natural resource management will boost food security on the continent. However, young people remain almost invisible, which is a critical threat to food security.
One of the problems facing the rural peasant farmer is the market for rural produce. Farm gate prices remain low and uncertain compared to farming inputs and the cost of living. In some cases, farmers cannot sell some of their produce, such as maize, as, when, and to whom they like, on the argument that doing so may endanger national food security. In other cases, farmers cannot sell or can only sell at throwaway prices. Such a situation cannot encourage the youth to remain in agriculture. Going back in history, we see how farmers of what were known as cash crops, such as coffee, cotton, and tobacco, operated in a well-regulated environment where the farmer was protected from a lot of risks.
This included access to farm inputs, extension services, and produce storage and markets. Government policy should be geared towards ensuring farmers a ready market and cushioning them from the numerous risks they face.
African agriculture has traditionally been geared towards meeting household needs (subsistence), but there is now consensus that agriculture must be a business as everybody, including farmers, depends on the market.
Promoting market-led agriculture would not only increase farmer incomes but it would also increase its appeal to the youth. The President's focus on agriculture and youth is to be congratulated. For agriculture to succeed, the farmer must be cushioned from risks and assured of markets.