Prisca: Entrepreneur who credits learning for her business success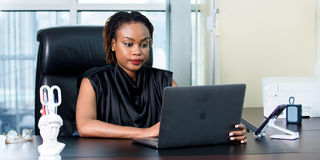 What you need to know:
Prisca chose to invest in the tech industry and bring the Smart EFD concept to fruition because of he market demand for a simpler solution in their business as a result of the current digitisation in tax collecting and monitoring
Dar es Salaam. 'Learn, Relearn, and Unlearn,' is a phrase that Ms Prisca Magori, an entrepreneur, co-founder and CEO of Smart EFD (Smart Electronic Fiscal Device), a solution offered by EVAS Company Limited and developed by TenTen Inc Ltd in Tanzania, believes can enable businesses to thrive in their sectors while complying with URT tax laws and regulations.
"Learning is what fuelled my success. There are things I learned in my business life that I came to realise were useless or unrealistic, so I decided to unlearn them. There are things I learned, and I realised that I still needed to learn more about them, so I decided to invest more time and resources to learn them, and that's why I'm here," she reveals.
"I even encourage my employees to spend a lot of their time learning because it is the best way to broaden their minds and know different things in the world of business," she adds. She reveals that she decided to invest in the tech industry and actualize the idea of Smart EFD due to the market need for a simpler solution in their business as a result of the current digitalization and digitization in tax collection and monitoring.
She says Smart EFD was a joint proposition between her and her partner, a software developer, Mr Hashim Kingu. She reveals that they got the idea from the existing gaps and challenges due to the use of traditional EFD machines.
"The traditional EFDs are not user-friendly, even for professionals like accountants. But with Smart EFD, it's easy to navigate, and receipts can be issued to any business operator that has a basic level of education. In simpler terms, I usually relate our development to the technological revolution in the field of telecom, the evolution of the telephone to the mobile phone to the smartphone," she shares.
Ms Magori, who is a petroleum engineer by profession, says she had to collaborate with a software developer to actualize the idea; hence, she collaborated with Mr Hashim Kingu.
Following the integration of Smart EFD with TRA, businesses can now issue fiscal receipts using a smartphone, computer, laptop, or point of sale (POS) device.
"Aligning with the Tanzania Revenue Authority's agenda of broadening the tax base, our primary focus is on enhancing our solution to cater to the average Tanzanian user. We aim to achieve this by offering a user-friendly interface and bilingual software that doesn't necessitate extensive technical knowledge to access our services, all while maintaining an affordable price point. All this is to improve the challenges experienced in the use of traditional EFD machines," she says.
She elaborates that that's why the Smart EFD receipt system is programmed to issue and send customers both soft and hard copy receipts through email, Bluetooth, social media, text messaging, or printing using a mobile thermal printer device.
Furthermore, she says the tax invoice system is designed to auto-generate billing for rendered taxable products or services and share it with customers.
On top of that, business sales reports are auto-generated and sent directly to the TRA servers daily.
She says Smart EFD allows a business owner to request additional accounts for their other business unit.
"Through the admin feature, they can control and manage the businesses by previewing sales reports, deactivating accounts, and setting a price cap for issuing receipts," she explains.
"Software developers don't come cheap, and for young non-technical entrepreneurs, it is best to partner with one of them," she says.
She continues: "I came in with project management expertise in terms of creating unique propositions, price setting, content marketing, customer experience, team building, competitive advantage, and the whole business perspective to make Smart EFD thrive."
She says that due to the need to work as a team to achieve their goals and plans, she always wants her employees to treat her as a leader and not a boss.
"I believe everything has a solution, and everyone has a contribution to the success of smart EFD. I like to listen to their thoughts on what should be done to solve the various challenges that arise while we are at work.
"When I listen to their ideas, I evaluate them, and I often learn new things from them," she says.
She adds that she likes to try new things because, even if she fails, she will have learned something new that will help her succeed more in the future.
From their database, Smart EFD has more than 5000 active users in the country, most of them being owners of small and medium-sized enterprises (SMEs).
"It's been a short time since Smart EFD started, but it has scaled very quickly, and I think it is because people needed user-friendly software applications like this," she says.
She says Smart EFD has succeeded in maintaining sales agents and opening branches throughout the Tanzania mainland, where its HQ is in Dar es Salaam and branch offices are located in the zonal regions of Arusha, Mwanza, Mbeya, Dodoma, Songea, and Songwe.
"We have touched every zone of the country so that we can reach more people," she reveals.
She adds that plans for the upcoming year Smart EFD will open two new branches, one in Tanga and the other in Kagera. To establish proximity to our stakeholders and enhance the quality of services we offer to our customers. This initiative is especially crucial because a significant portion of our target customers lack technical expertise and may require additional assistance. She says Smart EFD works closely with regional TRA branches nationwide, and it also has sales agents all over the country.
"Many of our agents are our existing customers, and then they were interested in becoming sales agents, and we gave them that opportunity.
She claims that the agents have been a great help in assisting customers with using the App.
"That has helped us have many customers, even in rural areas where it is not easy to establish an office," she explains. She reveals that the increase in customers in those areas is due to affordable prices and how easy it is to use the solution.
A complete kit, which includes a system and a thermal receipt printer, costs Sh200, 000. The cost of the system software and the thermal receipt printer separately is Sh60,000 and Sh110,000, respectively. There's a registration fee of Sh30,000 for newly recruited customers. However, the system software is renewed annually.
She says one of the successes that gives her the most joy is being able to inspire change for other supplier companies to learn from Smart EFD.
"We set the trend as the first suppliers to develop free applications for Android and iOS versions whereby users could download, register, test, and provide their views or comments on what to improve on our next updates. Those who came to release after us have been learning many features from the Smart EFD App," she shares.
However, she reveals that it was not easy to complete all the eligibility criteria to win this tender procured by a prestigious yet sensitive institution like TRA.
"Neither my partner nor I had any knowledge about tax-related issues," she reveals. She continues, "I had to read a lot online and through the taxpayer education unit at TRA on tax laws and regulations."
Ms Magori reveals that a few years ago, she tried to introduce some tech products and services, but they were not completely successful.
For instance, she says she and her team developed a software application codenamed TenTen Explore to support domestic tourism during the Covid-19 outbreak.
"We thought if a person is not allowed to travel abroad, why not allow them to travel within the country and visit different tourism attractions?" she reveals.
"I think they were unsuccessful (products) because we had not been able to identify who our target customers were," she says.
She says that is why Smart EFD has been successful: they learned from the mistakes they made in previous products.
"We realised that for us, as a company, to stand out, our tech solutions should target average Tanzanians with moderate incomes. With this intent, it has been a success factor for Smart EFD to achieve a lot more within its first year," she explains.
She adds, "The success of Smart EFD is to prove that our mistakes were not deterrents. They have lifted us and taught us a lesson about the right way to operate."