Salma Munde: A fast-rising star melding traditional and modern African rhythms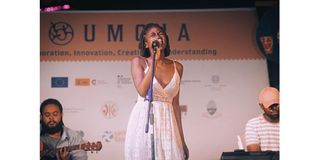 Summary
A multitalented singer-songwriter Salma Munde draws inspiration from Pwani origins.
Let me paint a picture in your head. Imagine sounds made of soft Swahili melodies that resemble a satin texture, the scent of coffee, and the taste of a peanut butter coconut cookie. A blend of such sounds is likely to make you either nod your head or sway your body, mind, and soul in the direction the sound goes.
I find this to be the perfect description of Salma Munde's singing. She is an upcoming independent R&B artiste, whose voice sings of love, freedom, and beauty.
On two different occasions, Salma owned her audience as they flaunted their harmony with her as she sang in front of them. The first event was the Umoja Fringe Night that was held at Nafasi Art Space early this month, and the second one was the 'Chausiku' event that was held at the Tarawanda House in Zanzibar.
She performed 'Planet June' and 'Utamu', two of her three released songs, at both events. She drowned the event participants with the two songs that were played with a guitar in the background, even though they carried different meanings.
In a one-on-one interview with The Beat, Salma relived her music journey. Her career began when she was nine years old at a Catholic school in Mwanza called Nyakahoja Primary School.
She had just joined boarding school and was introduced to fellow students who were supposed to look after her. She grew close to them to the extent that she joined a church choir to spend more time with them, even though Salma is a Muslim.
"I come from an Islamic family that truly values education, so it doesn't matter what school I have to enroll in as long as it has a good educational background," she shares.
"After I joined the choir along with my school sisters, I was arranged to sing a second part, and shortly thereafter, I began directing the whole choir, and I began to look at music as a career path I could pursue," she narrates.
Growing up in the church, Salma sought inspiration from gospel singers such as Rose Muhando and Selina Daniel as well as Bongo Flava hitmakers including Dully Sykes, Ray C, Nyota Ndogo, Stara Thomas, and others.
Years later, when she was in college abroad, she decided to quit school due to financial difficulties so that she could entirely focus on music before getting back to school.
"One night, one of my friends invited me to a poetry event headlined by Zuhura Seng'enge, and it felt like the push I needed at the time to start my own journey. She was speaking sensual Swahili poetry while rocking her hijab attire, it was such a perfect image that shed light on where I wanted to go with my music," she says.
Salma's first song, 'Breathe Easy,' was recorded on her laptop and posted to SoundCloud.
"I wanted to create music that would identify me as a Tanzanian or a person from the coast," she adds.
At the time, she was working as a freelance graphic artist in Kenya. "One of my friends named Fabian made the beat and shared it with me. I wrote the song and released it. I did not think it was a big deal. However, this was the song that introduced me and connected me with other artistes, including Tofa Jaxx and Brian Simba" she narrates.
She went on by saying, "Things took a turn as the reality of it all started becoming clear as day,"
'Breathe Easy' paved the way for Salma's subsequent projects, including Tulia and Planet June.
"I was then connected to Agnes Malinzi, a producer with whom I currently work, by my former boss at Nafasi Art Space, and together we created Utamu.
She is the brain behind the beat of the song. I recall that after she sent me the beat, it felt oddly good to listen to it, and I liked that about it.
"When I was writing it, it was more of a freestyle, and the words fell into the right place," she details.
With Utamu, which was released in August 2020, Salma explains that it has taken her a long time to release a new project because she has embraced perfectionism, an act she is currently unlearning.
"I want to first thank my fans for being patient with me because I had befriended perfectionism in the past. I had a habit of creating new songs, and after I listen to them a couple of times, I get the feeling that they are irrelevant and old, so this has made me put aside about four unreleased yet complete projects," she confesses.
Reliving the challenges she has faced, Salma says that upcoming artistes often face a lot of challenges as a result of being new in the industry.
"There are challenges that come with proving yourself as an artiste but you also have to work hard to make your talent stand out when you are a female artiste. I have had to learn about contracts and the like from other experienced artistes so that I can stand by what is mine," she explains.
Salma shares that she came across and declined a number of contracts that favor one party after "I realized that my benefits were not met."
The vibrant afrofusion singer is currently working on a seven-song Extended Play (EP), on which she has collaborated with Agnes, and four songs are already finished.
"After a lot of work, this EP will be out early in 2023. I am excited to see how this turns out. It will be two-sided," she hints.
Describing her unreleased project, Salma says that it is inspired by her love for Dar es Salaam, the Swahili language, and the coast.
"Side A is very jazzy, with a hip-hop element and poetry, and Side B will be more electronic, but I will also introduce new sounds that I have never explored before, as I am now on a quest to find sounds that I like," she avers.