Sho Madjozi's expansive journey beyond music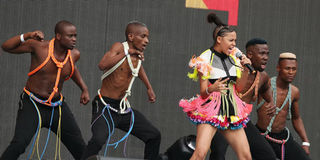 What you need to know:
Madjozi holds a degree in creative writing and African studies from Mount Holyoke College in South Hadley, Massachusetts, the USA.
When you hear Sho Madjozi's bold declaration of her future plans, it's hard not to raise an eyebrow.
"In the future, I will start my own brand of hairstyle, write more books, and produce films." This is what Maya Wegerif, alias Sho Madjozi, reveals to us in an exclusive interview with The Beat, shedding light on a side of her that many are yet to discover.
It was around 16:30pm at the Warehouse in Dar es Salaam, where we were waiting for her to finish her sound check before her 2023 performance.
Wearing her coloured clothing and shining hairstyle, you can tell how energetic she's ready for her performance as 30 minutes of her time were like an hour of never-ending funny stories, lessons, and motivations.
One thing that you may not be aware of about her is that she isn't just a talented musician; she's a scholar with dreams beyond the stage.
Few may know that she was blessed with the opportunity to pursue higher education, and her ambitions stretch far beyond the realm of music.
"Most people know me by my appearance from outside and don't know about my background. I've been fortunate to study extensively, and my dream was to become a writer.
"However, I stumbled into songwriting while crafting tracks for other artistes, and that's when my name began to resonate in the global music industry," she confesses.
Madjozi holds a degree in creative writing and African studies from Mount Holyoke College in South Hadley, Massachusetts, the USA.
In December 2022, she made her authorial debut with "Showma and the Stars," a touching tribute children's book to her late sister, Makhanani 'Nyeleti' Maganye, who tragically lost her life in a car accident in 2019.
The book is about a young girl who gets into trouble with her community, but when trouble comes knocking for them, she is there to save the day.
But that's not the end of her literary journey. Next year, Madjozi is planning to release a Swahili version of "Showma and the Stars," aimed at reaching East African readers and expanding her creative portfolio beyond music.
"After completing that project, I want to create a film that delves into the book's narrative. It will feature a character resembling me, with pink hair and vibrant colours, making it accessible to children," Madjozi shares.
While Madjozi's foray into writing and film is remarkable, her music career is equally noteworthy.
Her album 'Limpopo Champions League,' released in 2018, marked her meteoric rise to stardom.
The album, from the very first track to the last, 'Huku', 'Wakanda', and 'Kona' garnered attention not only in her native South Africa but also as far as Tanzania.
"From the beginning, my fans have showered me with love. My first, second, and third songs made a significant impact, even reaching Tanzania. This catapulted me to the BET Award and numerous other accolades. I've been fortunate to see my music become so popular." She reflects
This early acclaim culminated in Madjozi winning the prestigious BET Award in the category of 'Best New International Act' in 2019, along with AFRIMMA (African Muzik Magazine Awards) winner of Best Female for Southern Africa in Dallas and 2020 KCA (Nickelodeon Kids Choice Awards) winner 'Favourite African Star'.
In the same year of 2019, Madjozi became a global sensation with her hit 'John Cena,' which garnered a staggering 27 million views on the Colours YouTube account.
Her catchy tunes not only caught the attention of global audiences but also piqued the interest of artistes like American hip-hop artiste Missy Elliott and pop powerhouse Kelly Clarkson.
Speaking about her connection to Tanzania, she says it runs deep.
"My father had a job here, and we were able to stay for years. That's where I learned to speak Swahili, but from the streets," she recalls.
Her immersion in the country made learning Swahili a breeze, thanks to the similarities with the Zulu language.
"During my first week here, I found the church singing Swahili songs, and everything just clicked," she explains.
Proudly hailing from the Tsonga tribe, Sho Madjozi has embraced her cultural roots, evident in her music and distinctive style.
Her vibrant fashion choices, such as the xibelani skirt paired with Air Force Ones, exude energy and reflect her cultural heritage.
"Tsonga is our tribe, and I am proudly Tsonga. I began by creating songs rooted in Tsonga culture and adopting our tribe's style. Vatsonga loves bright colours, and you can see that in my hair and my clothes. My grandmother always told me that an outfit isn't complete without a touch of yellow. We're all about colour," she says with pride.
Madjozi's cultural background serves as a wellspring of inspiration for her music, enabling her to carve out a unique niche in the entertainment industry.
"My culture is a significant source of inspiration. I aim to fill the gaps in the entertainment industry. Before, East Africa lacked songs that fused the South African beat with the Swahili language. That's why we introduced this style," Madjozi explains. While Madjozi pays homage to her Tsonga heritage, she infuses a global sensibility into her music, creating a distinct and appealing fusion.
Her understanding of the music industry is evident when she reflects on the evolution of African music.
Madjozi fondly recalls the golden age of Bongo Flava and expresses her desire to see Tanzania develop a unique musical style that represents the identity of Bongo Flava.
"I came here in 2008, when Bongo Flava was at its peak, during the golden age of the genre. It was a remarkable era for Bongo Flava. But today, the genre has evolved, with Tanzanian artistes embracing various styles.
"Even before Amapiano gained prominence, artistes were exploring different genres, making it challenging to distinguish Tanzanian songs from others.
"I hope to see Tanzania establish a unique musical style. I enjoy singing in Kiswahili because it's delightful. While it's okay to incorporate different styles, it would be fantastic if we could create our own," Madjozi elaborates.
Despite her appreciation for diverse musical genres, Madjozi encourages audiences to embrace diversity and support home-grown music.
"What I don't like when I'm here is the overabundance of Southern and Nigerian music. It gives me the feeling of still being in Johannesburg. We can't all listen to the same kind of music. Let's give our own music a chance to shine and take precedence," she passionately emphasises.
Madjozi doesn't stop at music, writing, and cultural advocacy. She's also busy working on exciting film projects.
She teases, "I am proud to announce that I'm preparing a film that addresses human rights, albeit in a fun and instructive manner. The film aims to touch hearts and minds, educating and inspiring a global audience."
As she continues to pursue her passions for music, writing, hair styling, and filmmaking, the world eagerly awaits the next chapters in the remarkable story of Sho Madjozi, a true African trailblazer.