Swedish woman living the moment of her life in Tanzania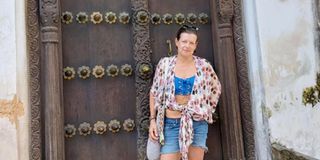 What you need to know:
They say life is for the living, and you are only as young as you feel. Lenvi Döse, a 60-year-old Swedish lady, is known to have defeated young men half her age in a push-up challenge in Zanzibar. A trained diver, she has visited Tanzania numerous times, where she found love and heartbreak in Zanzibar. She sat down with our travel correspondent, Anganile Mwakyanjala, to talk about how she is finding a new life and a new business in Zanzibar
QUESTION: Judging by your social media posts of adventure, you are a woman who seeks to spread her wings. At what age did you decide that you wanted to see what was beyond your country's borders?
I was 13 years old when my parents decided to send me to Great Britain for confirmation and to learn English. I was so bad at speaking English. I was lucky to have to live with an English family with three girls a bit younger than me. I learned a lot of English that summer.
At 60 years old, you had a push-up competition against young men in Zanzibar and won. How did that happen?
I have found out that two things impress the Zanzibari guys. One is money, and two are muscles. The only thing is that they are not used to a woman who can be stronger than they are. To start with, I climbed up a tree in Shangani Park. I later put up my TRX and started to do my TRX program with Tina Turner as my speaker. The guys didn't know what to do. They were in shock, but after a while, they started to make a video with the mobile phone. I continued going there every day, and after a while, they got used to me and understood that I was there to do my exercise like they were doing. I even got a really good friend, Bai. The guy who accepted my push-up challenge understood too late that Shangani Park was not the best place for him to meet a woman twice his age and not win. After that challenge, he didn't talk to me for two years. Hahaha! Last year in January, I met him on the Dreamers Island float outside Shangani Park. I asked if he wished to have his revenge, but he didn't.
Do you think life is more than just working and paying bills?
In Zanzibar, I feel so much more alive. Also, things that were important to me before, like expensive clothes or other status things, have lost my interest.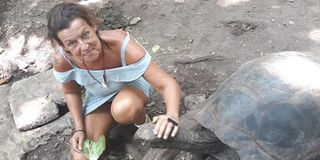 Going back to the time you came to Tanzania in 2018 as a preschool teacher. How did you get that opportunity?
A good friend went with her family to Dar es Salaam and visited the Nordic school in Oyster Bay, Masaki. When she came back to Sweden, she was sharing an application from Nordic School on Facebook. They were hiring a preschool teacher. While I was reading that application, I was thinking, that's me. I have been thinking that working abroad would be amazing. And I got the job.
You have been a preschool teacher for 40 years. What was it like moving to Tanzania, far from your country?
It was great because my life has been quiet for the last five years. Moving to Tanzania made me start living again. And gave me a lot of confidence. Even if it was like moving to another planet.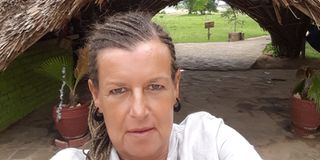 During your time as a teacher here, you got to visit Mikumi National Park. What were some of the memorable moments you had?
The last morning our guide got a call, and we didn't get any breakfast. Haraka Haraka, there was a lion honeymoon couple not far away. We learned that the lion couple makes love every 25 minutes in one week. Hahaha! And on the way back to the camp, we drove into a herd of elephants. It was 18 elephants around the Jeep; it was just amazing.
You also went to Bagamoyo; what was it like?
Yes, first weekend, one of my best friends and colleagues in Nordic school was going to visit his mother, who has a house in Bagamoyo. It was so interesting and sad, I could imagine how horrible it must have been a long time ago when the Africanse were loaded on ships and taken to Zanzibar to be sold as slaves.
Zanzibar is one of your favourite places, and I understand you will be going back in May. Tell us why you fell in love with the place.
The first time I came to Zanzibar was during a vacation in October. I was going to Kendwa for diving but decided to spend two nights in Stone Town before I went to Kendwa. I remember it being a strange feeling from the beginning. I was falling in love with that town. I am alone and so far away from home, but I must say that I have never felt more safe anywhere else. Stone Town is like a big labyrinth, and in the beginning, I got lost all the time. Nowadays, I know the town like the back of my hand. I remember an event from the first day when I wandered about in the middle of Stone Town. I could hear that many people were coming my way, and I stood against the wall to let them pass me. It was many men who were carrying the corpse of an old Indian woman on a door; they were on their way to her funeral. It was so beautiful with this old woman and her white hair, carried one last time through her hometown. I remember thinking that I would like to have a photo of this, but I understand that it would have been disrespectful to take a picture.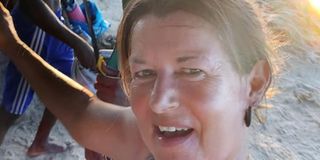 Sadly, Zanzibar is a place where you fell in love and also experienced heartbreak. Tell us about that.
Yes, I have fallen in love twice in Zanzibar. The first time was with a young man I met on my first day in Stone Town. In the local restaurant, Lukmaan. This relationship continued for three difficult years during the Covid era. And I was traveling to Zanzibar twice in the middle of the pandemic, when not many people were traveling. I remember that in August 2020, I strained to get to Zanzibar. And when I finally succeeded, I was almost the only Mzungu in Stone Town. My plan was to sell my apartment in Sweden and move to Zanzibar, but then I understood that it was a bit too dangerous, and I saw how the local people were struggling economically when no tourists were traveling to Zanzibar. I changed my plan and bought a smaller apartment in Gothenburg, where I live now. After three years of a hard time, a lot of lying, and other women, I decided to end that relationship. But we are still friends. In December 2021, I travelled for the sixth time to Zanzibar. After three weeks, I ran into a guy, and I thought that I had found the man of my life, but this relationship ended in an even greater disaster than the first one.
Did you find love again?Zanzibar and Tanzania in general have very many honest, eligible bachelors.
That is too early to say, but maybe there is someone, also with his roots in Zanzibar.
What helps you get rid of depression?
For me, exercise is like medicine. I do it every day. And it's also important for me to do my crafts and create things that I like. This, together with a lot of talking with people who understand my situation and what I have been through, has made me an even stronger woman than before.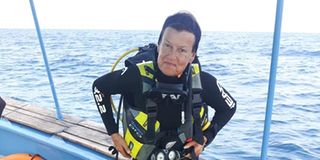 You are a certified diver; what made you get into diving?
Since I was a little girl, about five or six years old, I remember my favorite television program being Jacques Cousteau's amazing underwater world. I just wish that I had made my certificate earlier. I was 45 years old when I got my first open water certificate in Thailand, at Koh Lanta. After that, I started to choose holiday travel from my Atlas for divers. Jamaica, Tobago, and Mauritius are some of my favorite diving destinations, but my number one is Pemba, where I have been twice.
At 60 years young, what keeps you motivated to get up and work out?
I know that the workout keeps me young and stronger than ever. No one manages to guess my age. Hahaha. I believe that I'm a bit famous around Zanzibar as the crazy mzungu who is stronger than I'm supposed to be at my age.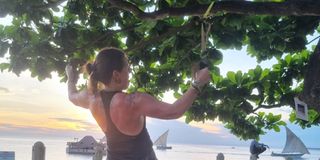 You are going to Zanzibar to start a new business. Can you tell us a little bit about it?
I will try to use my best skill, which is handcraft. I will create macramé lamps, crochet my Zanzibar chap, bags, and Zanzibar tops for women. Things that will attract both tourists and local people. D.Design means Döse Design.