How Oky helps young girls learn menstrual management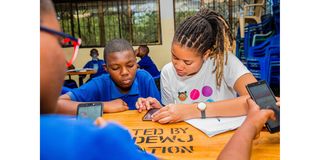 Summary
For many girls growing up in Tanzania, information about menstrual and reproductive health is very scarce. Oky app, a period tracker designed specifically for young girls, brings accurate information to their finger tips, teaching them how to manage their menses and more
Young girls in the country are set to begin to understand their sexual reproductive health better with the recent launch of a period tracking application that will help them to understand their bodies and manage their menstrual cycles.
On March 17 this year, UNICEF in partnership with Tai Tanzania, R-Labs and Mingati introduced a mobile application called Oky App Tanzania that took about a year in creating and getting tested by young girls in different parts of the country.
This period tracking application which has been customised to Kiswahili has been introduced to bring an end to misinformation and taboo perceptions that surround menstrual health and hygiene which young girls experience in the societies.
"There are many period trackers, however almost all of them focus on grown women. This showed that young girls were being left out. The kind of information that women have to know differs from the basic information young girls have to understand because they are still at an early stage and only beginning to understand their bodies," explains Mariam Mhina, Head of Communications at Tai Tanzania.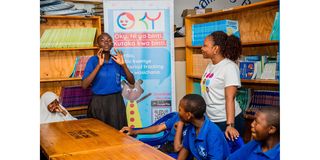 While this application has been active in other six countries like the United States of America (USA) in which it was first launched, the four associates chose to localise it in a manner that can be easily understood and explored especially by young girls in their respective country.
"This application is for both young girls and boys but especially for young girls. We put an option for the boys because they also need education in understanding their bodies and health as they go through puberty. They can skip every question related to girls and ask questions concerning themselves," explains Mariam.
When you first open the app, you are welcomed and presented with all the reasons to keep the app in your phone and actively use it. This app targets girls from the age of 10 to 16 years old.
The app details that it helps users to get to know their bodies and moods and to understand their health with the help of friendly characters who act as guides when they use it.
The user in question will have to agree to terms and conditions before they sign up, after sharing their information like birthdate. The signee is then given a 'buddy' who will pose as the guide through the application and an array of background pictures to match your individual taste.
"Have you had your first period yet?" This is the first question the application gives to the user after they sign up and the information shared afterwards depends on your answer to this.
The user has to then fill in the start date of their last period, the number of days the period lasted as well as the weeks between one menstrual cycle to the next one.
While it may be tricky to remember each and every date of the cycle, continuous use and input of information throughout the month helps the app create better tracking to keep you informed of the changes.
The user is encouraged to log in any changes they may experience for example cramps, feelings of fatigue, feeling bloated and even how heavy or light your flow is throughout your days.
The app also has an Encyclopaedia which provides information about the corona pandemic, family planning, relationships, nutrition and exercise, menstrual management, menstruation cycle and many other health and wellness topics that may be of interest to children.
This application was made to bring an end to the challenges that surround menstrual health and hygiene.
"Our societies still embrace misinformation that comes with menstrual issues and this causes young girls to worry about their periods to the extent that they decide to explore the topic blindly. There is also the fear of knowing that periods are consistent. We have launched Oky with the goal of sharing accurate sexual reproductive education and helping parents to bond with their children as they assist them to navigate their bodies and menstrual issues," Mariam details.
Prior to launching this application, a study that helped UNICEF and the other associates to make the application feel more interesting and relatable to young girls was conducted in several regions including Songwe, Dar es Salaam, Zanzibar, Dodoma and Mbeya.
"We talked to girls in schools and those who are not students. Our goal was to make it user centralised. We wanted our target audience to tell us how they would like it to be such as the things that they would prefer to be in the application because they are our target users. After we gathered the information, we made the application and visited the same regions to test the application," Mariam details.
When they got feedback from the testing, the associates developed it and presented it to the Ministry of Health who also shared their feedback.
"When we improved it based on the feedback from the Ministry of Health then sent it to them for the second time and they approved it and said that it was ready to be used. It is now free and available to download," she explains.
The first user testing was held on May 12, last year in Dar es Salaam during Innovation Week Exhibitions where 12 girls explored the application for the first time. The application currently has over 300 users.
Mariam shares that young girls who were the first users were fascinated as they explored it.
"Their excitement was vivid on their faces. Not only were the girls elated to find additional information within the app, they were also mesmerised by the simplicity of the app as well as the enticing display of the features within it," she says.
Mariam details that aside from the fact that many young girls cannot access smart phones at early ages, teachers and parents can download the applications on their mobiles and sign in their children or students.
"Oky application can be used by more than one user at different times, young girls can access this application by using their parents' or teachers' phone and log out when they get the information they need. The application on its own is set in a manner that the user gets to sign in every time they log in," she says.
Mariam says that it is their hope that more stakeholders who have access to young girls through different programs and projects will come on board to help in increasing access to more young girls in the country.